If you are looking for the best and stylish guild slogans for your Free Fire guild, then your search ends here. Free Fire, a major title in battle royale games, comes with a number of gaming mechanics that are not limited to parachuting across a map and eliminating other players. Rather, the game offers in-app purchases, the opportunity to customise characters, the chance to grab weapons, and it also allows you to join or create guilds, which are nothing but groups of players. where all players come together as a team and complete missions and challenges to earn various rewards.
That's why it's so important to choose a good name for a guild to make their group stand out from the rest and give them a chance to show off their stylish personalities. But as Garena introduces slogans for the guild, which can do just as important a job as the guild's name, this article lists some of the stylish Free Fire guild slogans, along with a detailed guide on how you can change an existing guild's slogan or add a new one.
What is the Free Fire Guild slogan?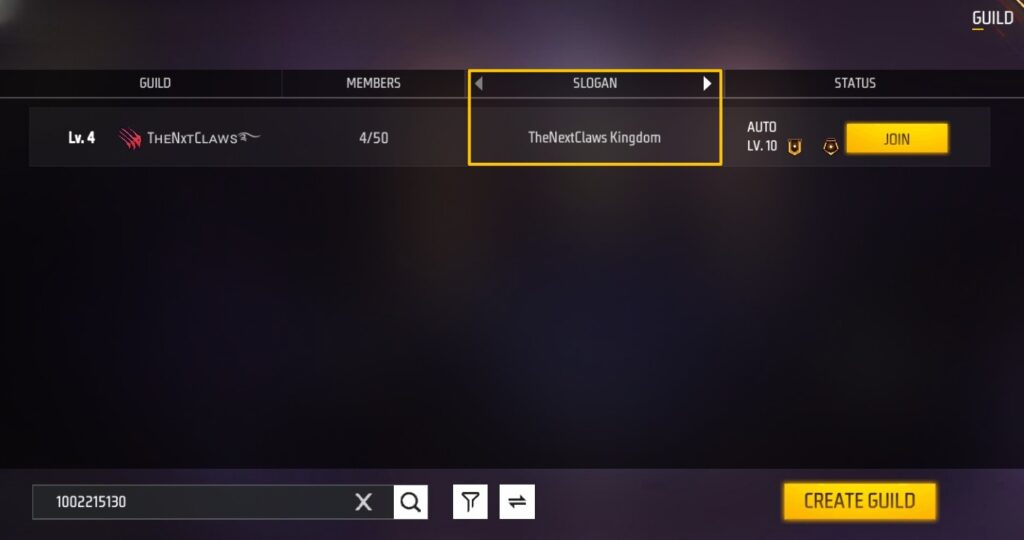 The "Free Fire Guild slogan" is a short motto or description of any guild. The slogan often expresses the idea or purpose of the clan, with the goal of boosting power or persuading others to respect the group. Also, a Guild slogan is oftentimes catchy and memorable because whenever someone searches for or sees a guild, they see the guild slogan along with the guild name.
Therefore, having a cool and perfect slogan can make a Free Fire guild more professional and discoverable, which will help more players to reach the guild.
How to create and find the best slogan for the Guild in Free Fire?
Finding the best slogan for the Free Fire guild is not as difficult as choosing it because you can easily find and choose some of the slogan for your guild based on your interests by using the website Nickfinder.
And if you are looking for stylish slogans, then you can make your chosen slogan cool and stylish through Lingojam, which offers designs in over 100+ styles absolutely free of charge.
Pre-Made Best Stylish Free Fire Guild Slogans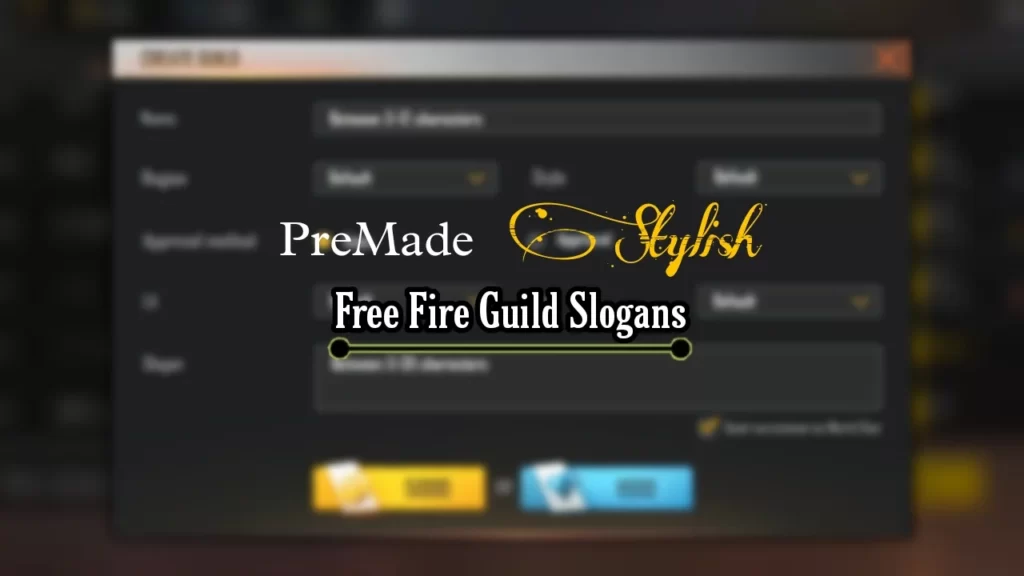 Don't want to put too much effort into creating a new guild slogan? So to make your Free Fire Guild stand out from the rest of the competitors, here is our list of pre-made slogans from which you can choose one of the ones mentioned below with a catchy guild slogan.
★ꜰᴀᴄᴇ ᴛʜᴇ ꜰᴜʀʏ★
FΣΣᄂ ƬΉΣ ЩЯΛIƬΉ
†h冒§ †hê §þïrï†
Kί?? 卂ⓡ? ?ẸŘe
千eelŦheᵀhuή∂e?
Wҽ αɾҽ Vҽɳσɱ࿐
Bɾҽαƙ Tԋҽ Rυʅҽʂ
❖Ƭʜᴇܔ???? ??????✓
ƬΉΣ BΣƧƬ ӨF ƬΉΣ BΣƧƬ
๖ۣۜƊo?τ͢͢͢MessWᎥτʜUs
Bυɾɳιɳɠ SԋαԃσɯS
?? ??? ???
ᴋɪʟʟ ᴀɴʏᴏɴᴇ ᴡɪᴛʜ ꜱᴍɪʟᴇ
??? ????? ?? ???? ????
Ꮆㄖᗪ丂 ㄖ千 ᗪ乇卂ㄒ卄
Wê årê ßrð†hêr§
M¥ ßµllê† †ðµ¢h ¥ðµr hêåÐ
Play safe! Don't rush
ꪶ꠸ᠻꫀ ꠸ᦓ ᦓꫝꪮ᥅ꪻ, ꪶ꠸ꪜꫀ ꠸ꪻ
??????? ?? ???? ????
Çåñ'† §†ðþ µ§
ΓHΞ CHДMPIФИS ФF FЯΞΞ FIЯΞ
тнє тнυη∂єяѕтσямѕ
????? ?????
Bυɾɳιɳɠ ϝʅαɾҽʂ
?ɦɛǟɖֆɦօȶ ӄɨռɢֆ ?
1 BЦᄂᄂΣƬ ΣПӨЦGΉ
тнє gяєαтєѕт σƒ αℓℓ тιмє
GREATEST WARRIORS
一═デ︻ ωє αяє тнє вєѕт ︻デ═一
❝??? ?????? ?????????❞
██▓▒­░⡷⠂???? ?????????⠐⢾░▒▓██
Raging Legends
?աɛ ǟʀɛ ɨռʋɨռƈɨɮʟɛ ?
Λᄂᄂ IƧ ЩΣᄂᄂ
ƬΉΣ GΛMΣ IƧ BΣGIП
gινє яєѕρє¢т тαкє яєѕρє¢т
DO OR DIE!
ɢʀᴛ ʀᴇᴀᴅʏ ᴛᴏ ꜰɪɢʜᴛ!
?ɮօօʏǟɦ ֆɛɛӄɛʀֆ ?
一═デ︻ нєℓмєт вяєαкєяѕ ︻デ═一
????? ?? ?????
??????? ???? ???
ηєνєя gινє υρ!
◤✞ ?????? ???? ???? ✞◥
ﮩﮩ٨ـﮩﮩ ℓєgєη∂ѕ♡ηєνєя♡∂ιє ﮩﮩـ٨ﮩﮩـ
ʊռʟɨʍɨȶɛɖ ֆքʀǟʏɛʀֆ!
??? ?? ?????, ???? ???????!
Kιʅʅ Tԋαƚ Mαƚƚҽɾʂ!
Fɩvɘ Sɘcoŋɗs Oʆ Wɩŋtɘʀ
Dʀʋŋĸ Vɘɭocɩʀʌptoʀ
ツмαχαιя࿐
Aʀɱɘɗ Sɘʀvɩcɘs
???? ??????, ??? ?? ??????
???? ??? ??????!
???? ??????? ⍨
Dσɳ'ƚ ƚԋιɳƙ, ʝυʂƚ ρʅαყ ⬧
Wιɳɳιɳɠ Aʅɯαყʂ ɱαƚƚҽɾ
Pɾҽραɾҽԃ ƚσ Rυʂԋ/Sυɾʋιʋҽ ?‍☠️
Kҽҽρ Uʂ Aʅιʋҽ ㅤᵕ̈
Bყƚҽ Ⴆαƈƙ, Fιɠԋƚ Ⴆαƈƙ
ₐₗwₐyₛ Bₑ Cₒₒₗ ᵤₙdₑᵣ ᵣᵤₛₕ ᥫ᭡
????? ?? ???? ????
ᎴᏗᏕᏂᎥᏁᎶ ᏦᎥᏝᏝᏋᏒᏕ ン
Aɭoŋɘ ɭovɘʀS
ֆքʀǟʏ ɢօɖֆ
ɴᴇᴠᴇʀ ᴄᴏᴍᴘʀᴏᴍɪꜱᴇ!
❝???'?? ???? ??????!❞
??? ???????????ࠋ?!
Nҽxƚ ιʂ Yσυɾ Tυɾɳ!
Ͳհҽ Ꭰҽʂէɾօվҽɾʂ!
Tԋҽ UɳϝσɾɠҽƚƚαႦʅҽ!
Fιϝƚყ Mσɳʂƚҽɾʂ
Fιϝƚყ UɳႦҽαƚαႦʅҽʂ
???? ??? ?????
???? ???????
一═デ︻ ρℓαу тσ нυηт! ︻デ═一
???? ?? ???? ????!
ﮩ٨ـﮩﮩ٨ـﮩﮩ !!мєѕѕ♡ωιтн♡υѕ!! ﮩﮩـ٨ﮩﮩـ٨ﮩ
???????????? ?? ??? ???????!
一═デ︻ ρℓαу тσ нυηт! ︻デ═一
? ?? ???? ??? ??????! ?
Dҽαʅ Wιƚԋ Dҽαƚԋ
ɴᴏᴡ ᴏʀ ɴᴇᴠʀ, ᴘʟᴀʏ 4ᴇᴠᴇʀ
?ռɛʋɛʀ ֆǟȶɨֆʄʏ! ?
❝???'? ????? ??????❞
Ꭰօղ'է Ƒҽąɾ ටղӀվ ↻հҽҽɾ
❝?? ????? ??????!❞
?ȶɛǟʍ օʄ ɦʊռȶɛʀֆ! ?
?ȶɦɛ ɖɛֆȶʀօʏɛʀֆ! ?
Lҽαɠυҽ σϝ Lισɳʂ!
?ᛗⱥҟē Ⱦħēᵯ Ꞩᵾɍɍēꞥđēɍ!?
Tԋҽ Kɳσƈƙιɳɠ Mαƈԋιɳҽʂ!
Tԋҽ Hʋŋʛʀƴ Aɗɱɩʀʌɭs
Psƴcʜɘɗɘɭɩc Sɘʀvɩcɘɱɘŋ
Gʀɩɘvɩŋʛ Bʋtcʜɘʀs
Hoɱɘɭƴ Sʜʌʀpsʜootɘʀs
Tʜʋʛ Oŋ Loosɘ
Fιϝƚყ Fʌʋɭtƴ Dɘvɩɭs
Rʋɗɗƴ Extɘʀɱɩŋʌtoʀs
50 TʀɩŋɩtƴWʌʀʀɩoʀS
English Guild Slogans for Free Fire
Just Crush the Squads!
Be Always Online
Never afraid to Win!
Demons of Dispatcher
Boiled in Blood?
Join The Royal Alliance
Why not a Blood Riders?
The KingsGuard-Dom
Exiled Fighter Gang
Quell the storm, Ride the Thunder!
Hunt The Survivors!
Attack, Don't Retract!
Cool Guild Notice for Free Fire
Unleash the fire within!
Join the elite, join our guild!
Victory or defeat, we stand united!
No fear, no mercy, only victory!
Together we rise, together we conquer!
United we stand, divided we fall!
Grit and determination, our winning formula!
In it to win it, with our guild by our side!
We are unstoppable, unstoppable together!
One team, one dream, one victory!
Victory or defeat, we face it together!
Stronger together, we dominate the battlefield!
Together we stand, together we fight, together we conquer!
Our guild, our family, our strength!
We are the champions, and we will reign supreme!
Victory is ours, with our guild by our side!
No obstacle too great, no challenge too difficult, with our guild by our side!
Unbreakable bonds, unbreakable spirit, unstoppable force!
We are the elite, and we will not be defeated!
Victory is ours, with our guild leading the way!
We are the best, and we will prove it on the battlefield!
Together we are unstoppable, unstoppable force!
In it to win it, with our guild leading the charge!
Victory or defeat, we stand united as one!
Together we are a force to be reckoned with!
Free Fire Guild Slogans in Hindi
★ᏉᎥᎮ★खिलाडी
आशिक★आवारा
ढाकू MÅÑGĀŁ सिÏÑGH
हवस के पूजारी
义कलयुग के रावण义
༒✪तबाही मचाने वाले➻➻
हिलाकर रख देगें
शिकारीयो की फौज
छोड़ेगे नही
दस के दम࿐
×͜× खतरनाक Ƙɪʟʟᴇʀʂ࿐
Stylish FF Guild Notices
Here are some additional FF guild notices to choose for your guild:
?? ??? ? ????, ?????? ?? ???????!
?? ???? ?????, ?? ??? ??????!
????????, ?? ???? ?? ??? ???!
??????? ?? ????, ?? ???? ?? ?? ????? ????????!
▄︻デW̷e̷ ̷n̷e̷v̷e̷r̷ ̷g̷i̷v̷e̷ ̷u̷p̷,̷ ̷w̷e̷ ̷n̷e̷v̷e̷r̷ ̷s̷u̷r̷r̷e̷n̷d̷e̷r̷!̷══━一
꧁?? O̶u̶r̶ ̶d̶e̶t̶e̶r̶m̶i̶n̶a̶t̶i̶o̶n̶ ̶i̶s̶ ̶u̶n̶b̶r̶e̶a̶k̶a̶b̶l̶e̶!̶ ??꧂
★彡[ᴡᴇ ᴀʀᴇ ᴀ ꜰᴏʀᴄᴇ ᴛᴏ ʙᴇ ʀᴇᴄᴋᴏɴᴇᴅ ᴡɪᴛʜ!]彡★
W̳e̳ ̳a̳r̳e̳ ̳a̳ ̳t̳e̳a̳m̳ ̳o̳f̳ ̳c̳h̳a̳m̳p̳i̳o̳n̳s̳!̳
ₒᵤᵣ ?ₒ?? ᵢ? ??ᵣₒ?gₑᵣ ??ₐ? ₐ?y ₒ???ₐ?ᄂₑ!
ᴡᴇ ꜰɪɢʜᴛ ꜰᴏʀ ᴇᴀᴄʜ ᴏᴛʜᴇʀ, ᴀɴᴅ ꜰᴏʀ ᴠɪᴄᴛᴏʀʏ!
ᴼᵘʳ ᵗᵉᵃᵐʷᵒʳᵏ ᵐᵃᵏᵉˢ ᵗʰᵉ ᵈʳᵉᵃᵐ ʷᵒʳᵏ!
∀ïς†⊕rψ ïš ⊕urš, αš レ⊕ηg αš ωε hα∀ε εαςh ⊕†hεr'š ßαςκš!
Tₒgₑ??ₑᵣ, wₑ ₐᵣₑ ᵤ???ₒ??ₐ?ᄂₑ!
੮૦૭૯੮Һ૯Ր, ω૯ ८૦Ոҩυ૯Ր คՆՆ ८ҺคՆՆ૯Ո૭૯ς!
?? ???? ?????, ?? ???? ?? ??? ??? ?? ???!
How to Add Slogans to the Free Fire Guild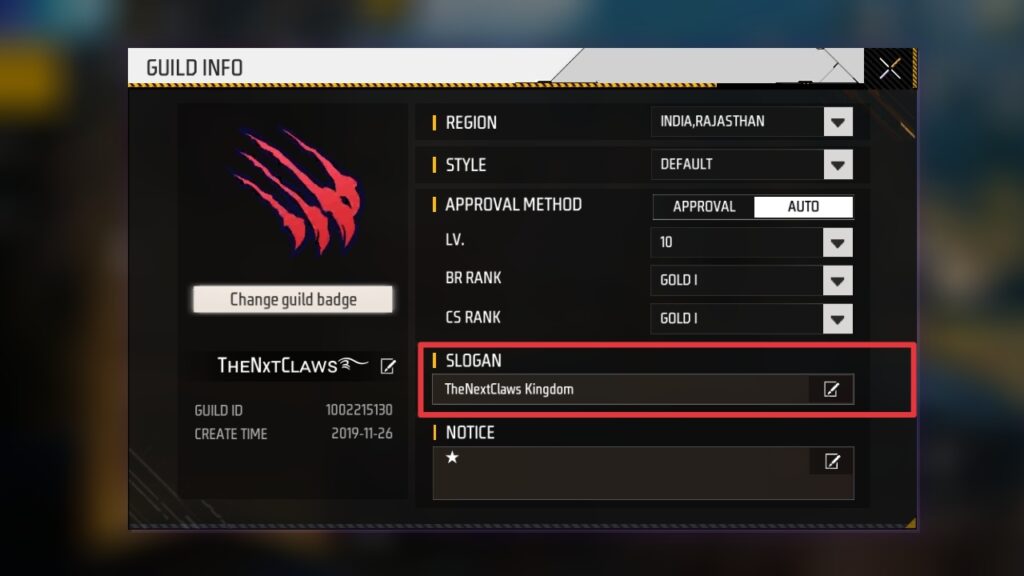 Players can add slogans when creating a new guild along with the name, guild region, etc. or edit it later. Follow the steps below to add or update a guild's slogan in Free Fire:
Step 1: First open the game and click on the "guild" icon present on the right side of the lobby screen.
Step 2: Then click the "Guild Info" button.
Step 3: Now, a dialogue box will appear, where have to press the "Edit" icon next to the current Guild slogan.
Step 4: Next, paste the desired slogan and tap on the "OK" button.
Step 5: Now click the "Save" button. And the guild's slogan will be changed.
---
Frequently Asked Questions
Here are some frequently asked questions and their answers regarding FF guild slogans.
How much diamond does it cost to change a Guild Slogan in Free Fire?
Currently, it doesn't cost anything.
What is the minimum-maximum character length limit for guild slogans in Free Fire?
Guild slogans must have a minimum character length of 3 characters and a maximum of 20 characters.
This is the list of guild slogans for the Free Fire guild. If you find that the slogan mentioned above doesn't suit your guild, you can try to customise and stylize it by choosing a few more catchy phrases from somewhere, or you can follow the method mentioned above to create your own.
And While you're here, check out our list of Free Fire names with different styles and icons.
---
For more news, updates, tips, and tricks on Free Fire, follow us on Google News and Twitter. Also, don't forget to join our Discord and Telegram channel to be notified quickly!