If you are looking for Ajjubhai Free Fire UID, then your search ends here. As we all know, Free Fire is one of the most popular mobile games in the world, but if you are an Indian Free Fire player, you must have heard about "Total Gaming". One of the most popular Free Fire YouTubers in India with millions of followers across multiple platforms, he is known for streaming the gameplay of Free Fire with his engaging Hindi commentary.
Not just that, he is also a professional gamer, i.e., one of the Free Fire pro players. That's why many players keep searching for his game details, like his UID, his income details, and even a glimpse of his face. And you might also be one of those players, so, today in this post, we will try to share more info about Ajju Bhai, like his UID, in-game stats, his guild ID, and some real-life info, but not his photo because he has not shown his face yet. So without further ado, let's go.
Ajjubhai UID in Free Fire
Ajjubhai's current in-game name is Ajjubhai 94, and his UID is 451012596. Talking about level, ajjubhai94's current Free Fire level is 74, and he also has over 37k+ likes.
Total Gaming Guild ID in Free Fire
Currently, Ajjubhai is in the Total-Gaming guild, and he is its leader. Total Gaming guild ID is 62710265 with a total glory of 17 lakhs above. He is also the member of the TG Mafia Guild, whose ID number is 60920276.
In-Game Stats of Ajjubhai Free Fire ID:-
Lifetime Stats
Till date, Ajjubhai has played more than 12.9k squad games and won more than 3071 matches with 49.9k kills. He currently has a K/D ratio of 5.08 in his lifetime stats. And in Duo Mode statistics, he played around 1838 games, winning over 358 matches with over 7.3k kills. They have a low K/D ratio of 4.94 compared to squad statistics.
In solo mode, Ajjubhai94 played 1k games with a K/D ratio of 2.78, with 93 wins and 2616 kills.
BR Ranked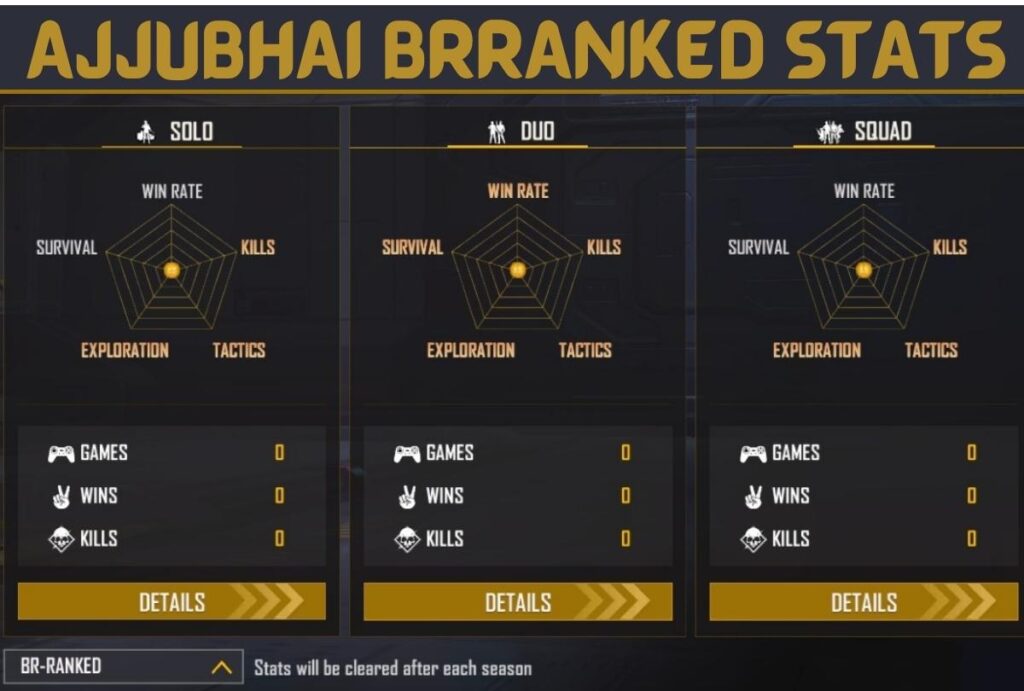 Since the new ranking season only started yesterday, they have not played any match so far. So in the rank statistics, we don't have any data for id to show you.
CS Career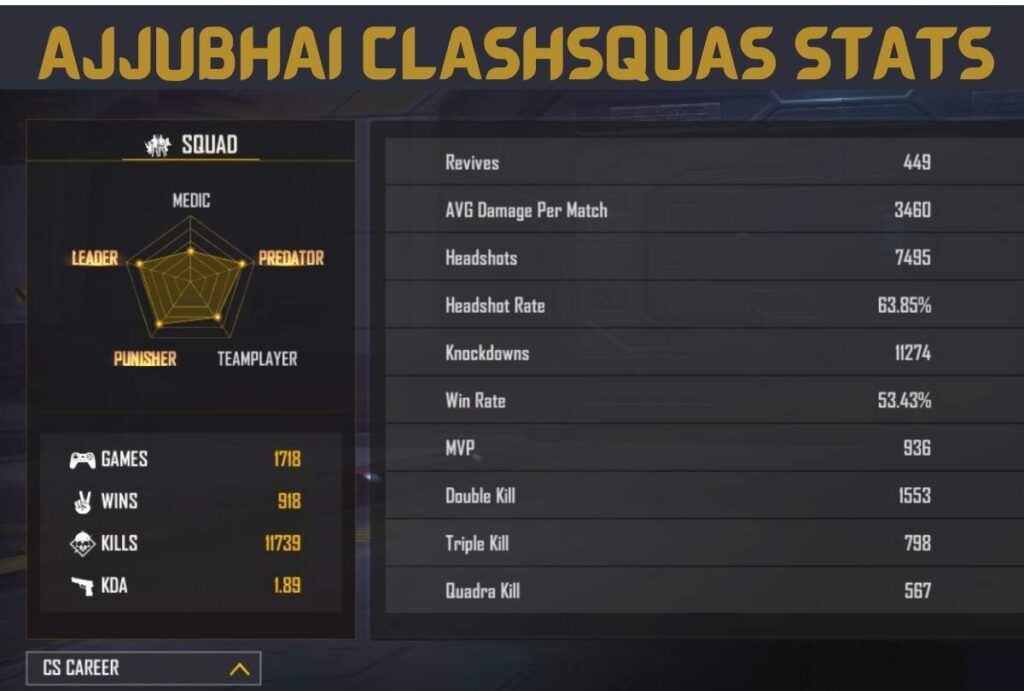 Throughout Ajjubhai94's Cs career, he has played 1718 games, winning over 918 matches with 11.7k kills and maintaining a K/D ratio of 1.89.
CS Ranked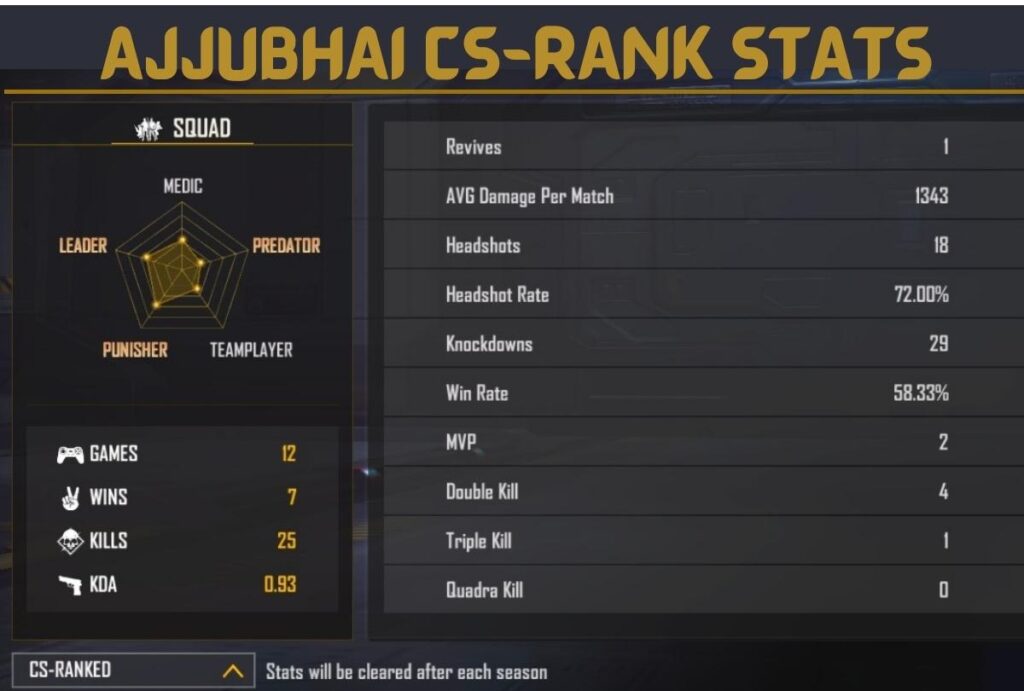 The current season of Clash Squad shows that Total Gaming has played 12 games so far in the current season of Clash Squad and won 7 of them, with 25 kills, due to which their K/D ratio is 0.93.
Ajjubhai's YouTube Channel
Gamer and growth hacker ajjubhai94 started his YouTube journey in December 2018, which has grown rapidly. He has currently uploaded 1.8K+ videos to his primary channel, Total Gaming and has 32.8M+ subscribers. He also has some additional YouTube channels as well.
Total Gaming's Estimated Income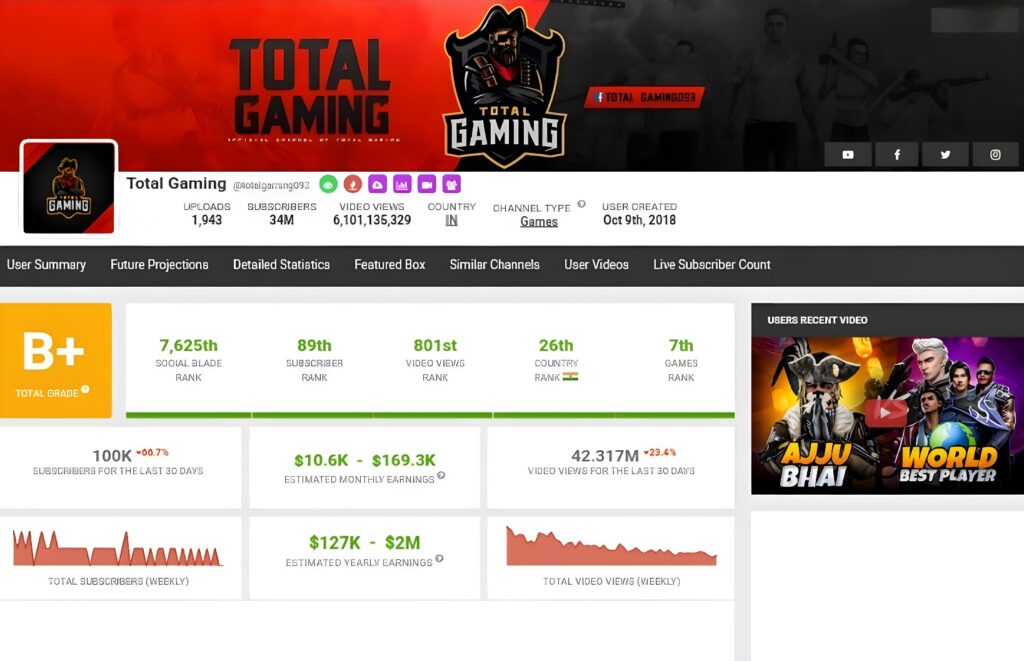 According to Social Blade, the monthly income of Total Gaming based on YouTube channel views is in the range of around $10.6K–169.3K, and their annual income is in the range of around $127K–$2M. And apart from this, he also earns a lot from super chat, subscriptions, sponsorships, etc.
Other Social Media Accounts:
---
Frequently Asked Questions
What is the UID of Ajjubhai in Free Fire?
Ajjubhai's Free Fire ID number is 451012596, and his IGN is ajjubhai94.
What is the level of Ajjubhai?
Total Gaming, aka Ajjubhai's, current level is 74. Soon it will be crossed to 75.
What is the real name of Ajjubhai94?
Ajjubhai aka Total Gaming's real name is Ajay.
That's the info about Ajjubhai's Free Fire ID, his in-game stats, guild, and estimated monthly and yearly income. Hopefully it helped you.
---
For more Free Fire related news and updates follow us on Google News, Twitter and Instagram!