Candy Crush Saga is just as sweet as the delicious treats it features and twice as addictive. This is one of the best games to play when you are bored. What started as a basic Bejeweled clone now vies for your attention and money on the internet, Facebook, and your devices.
However, with an emphasis on remaining potentially one of the most addictive games available on mobile, and offering loyal fans everything they need to keep them engaged for a long time, this casual game by King will keep you hooked for hours on finding and matching colourful candies. So there are two questions asked by millions of players, beginners and veterans: how many levels does Candy Crush Saga have, and does it have an end?
Candy Crush Saga – A Quick Introduction
Candy Crush Saga is a match-three game developed by King in 2012, where players match candies to score points and complete a level. And each level is part of an episode and comes with its own special challenge, like clearing all the jellies or bringing down all the ingredients. Players can create special striped candies, wrapped candies, and rainbow candies for enhanced movement by combining their regular candies. Or you can do more but lose a level and will lose a life.
In starting, Candy Crush Saga was mainly focused on Facebook users. Now it's available for free and can be played on Android, iOS, Windows Phone, and Windows 10. And now, Candy Crush Saga is still one of the most played mobile games in history, with over several billion downloads in both the Play Store and the App Store.
How many Candy Crush Saga levels are there?
The answer to How many levels Candy Crush has in total as of Today isn't quite as simple as it sounds, as the developers of Candy Crush are constantly adding new levels with new episodes. Every Wednesday, new levels are added to the game, so if you haven't played for a while, more fun levels await you. But currently,
There are currently 12,725 levels in 849 episodes of Candy Crush Saga for Android, iOS, Amazon devices, and the Facebook versions of the game. And if you're playing on the Windows version, there are 90 additional levels in six episodes, meaning there are 12,815 levels in total.
Types of Levels in Candy Crush Saga: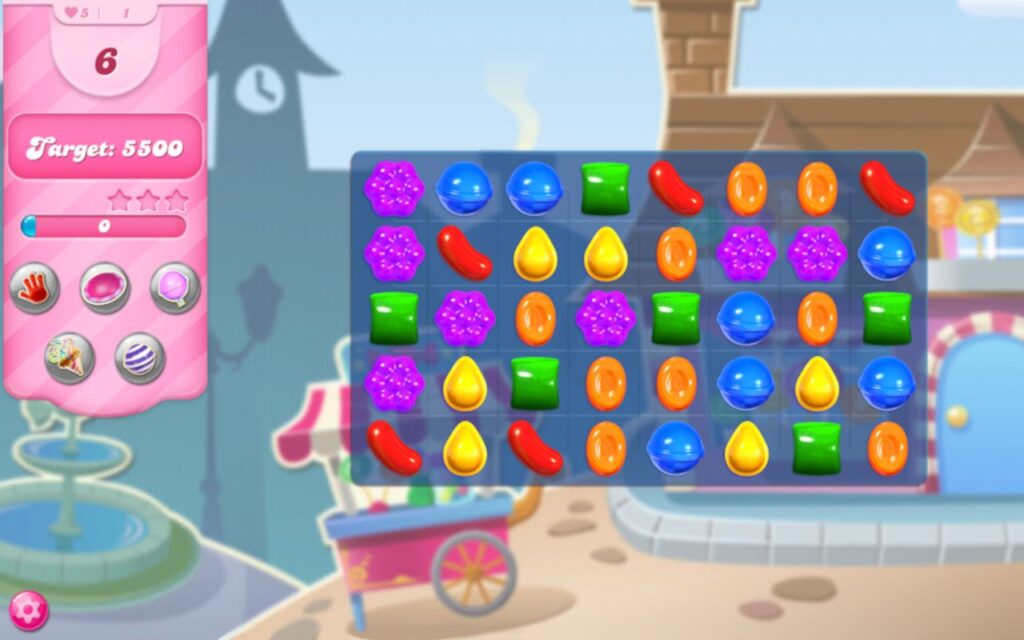 Currently, there are five types of levels in Candy Crush Saga. Three of them are available from the early stages, while the other two are introduced after hundreds or even thousands of levels. And each level type requires a different approach. However, the two levels that once existed in the game, "moves" and "timed", have been abolished. Here is the current one's information, in order of their appearance:
Candy Order
The candy order level is also known as the" objective level" or "simply the order level". Its icon is pink with a white tick, and the candy order level first appears in Candy Town, the first episode, with the first candy order level being level 1. Clearing an order requires obtaining and using certain candy types, matching a certain number of candies of a certain color, or removing a certain number of other special blocks.
Jelly
Also known as "Clear all the jelly levels," all these jelly levels are one of the level types in Candy Crush Saga, and it first appears at level 8. To win this type of level, players have to clear all the jelly blocks on the board, which is when the sequences are matched at least once with the candy located inside all the jelly blocks.
Ingredients
These levels, also known as the Ingredient Drop levels", first appear in the Candy Factory in the second episode, with level 17 being the first ingredient level; the icon for this level type is green with a white arrow pointing down.To clear this type of level, the ingredients have to be brought down to one of the exits indicated with arrows under each column.
Mixed Mode
This level type of icon has two distinct colours separated by a white rotation, and it first appears in the 16th episode, Crunchy Castle, with level 216 being the first mixed mode level.These levels combine two of the other available types, making them even more challenging.
Rainbow Rapids
Introduced only after reaching level 7,000, you must clear paths and collect rainbow candies. This level type's icon is turquoise with a slanting line.This Rainbow Rapids level first appears in Snowy Suburbs, the 476th episode, with the first rainbow rapids level being level 7116.
Candy Crush Saga Levels are Endless or is there a highest level?
So, does Candy Crush end? If we put it in one word, no, because Candy Crush Saga is said to be a saga that never ends, and with new levels added constantly, it seems like it's endless.
Plus, the developers keep on making sure that gamers keep playing even after completing the available levels by adding fresh episodes every week. Therefore, you can never complete the game because a new level will be automatically generated before you even know it.
At the time of writing this article, as of October 2022, Candy Crush Saga currently holds 12,725 levels in 849 episodes on the HTML5 version and 90 more levels on the Windows 10 app version, meaning the highest level in Candy Crush Saga is 12815 level. However, some players have a slightly higher playing level due to testing.
Conclusion
Obviously, there are so many levels to play in Candy Crush Saga, but hopefully the article helped you know more about how many levels there are in Candy Crush Saga.
& Did you know that you can give your valuable feedback to the King to help design the next new levels? Yes, just visit the King forums and submit your feedback.
---
For more of the latest Candy Crush related news, updates, tips, and tricks, follow us on Google News, Twitter, and Instagram. Also, join our Discord and Telegram Channel to get notified quickly!