Free Fire is a popular battle royale game with a huge global community. Many Free Fire YouTubers create daily videos about the game because of its immense popularity among players. However, only a few YouTubers achieve significant milestones and gain a substantial number of subscribers. Amit Bhai (Desi Gamer) is one of those who has become popular by creating content about Free Fire.
Today, we'll share more details about Amit Bhai, including his uid, in-game stats, K/D ratio, Guild ID, and some real-life information along with other in-game details.
Who is 'Amitbhai' in Free Fire?
Amit Bhai, whose real name is Amit Sharma, is a well-known content creator and Free Fire player from West Bengal, India. At just 24 years old, he has become a prominent figure in the Indian Free Fire community.
Amit Bhai is renowned for his in-game skills, showcased through his YouTube videos. He is also the oldest Free Fire YouTuber in India and is known for his friendship with Ajjubhai (Total Gaming), which is adored by fans.
What is the UID of Amitbhai?
Amitbhai's Free Fire UID is 206746194, and his in-game name is Amitbhai :). He leads the Survivors☆☆☆ guild (ID: 60727130) with a total glory of 45 lakhs+. Additionally, Amit Bhai has a V-badge.
---
In-Game Stats of Amitbhai ID:-
Level:
Amitbhai's Free Fire ID is at level 75 with over 31,000 likes.
Lifetime Stats: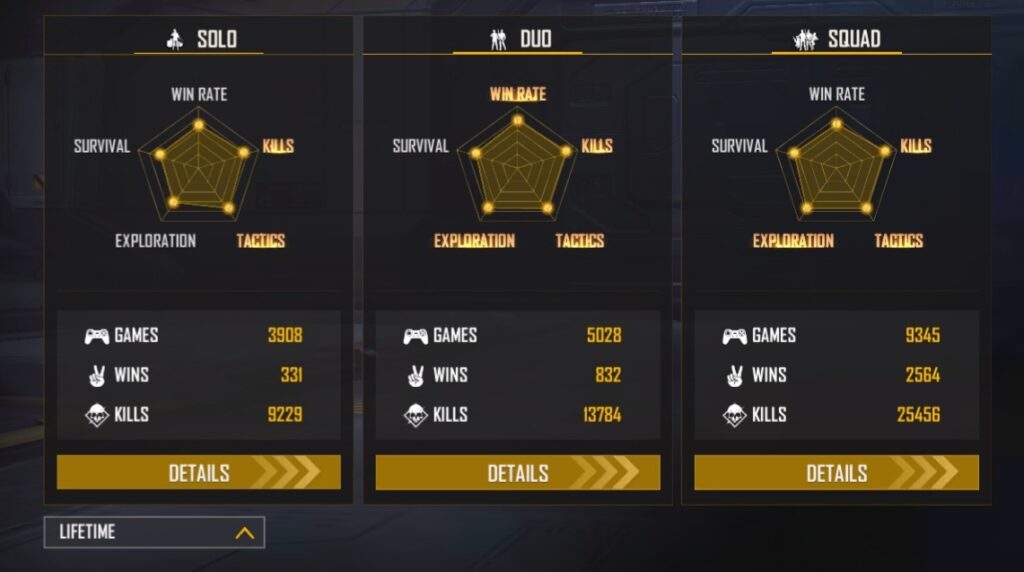 Amitbhai has played over 9,345 squad games, winning 2,564 matches with a total of 25,456 kills. His squad mode lifetime K/D ratio is 3.75. In Duo Mode, he has played around 5,028 games, winning 832 matches with over 13,784 kills, resulting in a K/D ratio of 3.29. In solo mode, Amitbhai has played 3,908 games with a K/D ratio of 2.58, winning 331 matches and eliminating 9,229 players.
Ranked Stats:
As of the beginning of the new BR-Ranked season, Amitbhai hasn't played any matches in the current season, so there are no ranked statistics available.
CS Career Stats:
Amitbhai has played a total of 2,673 games in CS (Clash Squad) mode, winning 1,606 matches with 14,897 kills and maintaining a K/D ratio of 1.74.
Clash Squad Ranked Stats:
In the current Clash Squad rank season, Amit Sharma has participated in 63 games. Out of these, he has emerged victorious in 38 matches, with a total of 247 kills, resulting in a K/D (kill-to-death) ratio of 0.97.
Amitbhai's YouTube Channel: Desi Gamers
Amit Sharma, widely known as Desi Gamers, has a YouTube channel with over 12.8 million subscribers, ranking him among the top Free Fire YouTubers in India. He started his channel on May 11, 2015, but began regularly uploading Free Fire videos on October 3, 2018. His content includes gameplay, pranks, funny challenges, and moments videos, with over 1.1k+ videos uploaded to date.
Desi Gamer's Monthly and Yearly Income
According to Social Blade, Desi Gamers earns a monthly income ranging from approximately $5.5K to $87.3K based on YouTube channel views. His annual income falls within the range of about $65.5K to $1M. In addition to YouTube earnings, he also makes money from super chats, subscriptions, sponsorships, and more.
Social Media Accounts:
We hope this article provided you with insights into your favorite Free Fire YouTuber, Amit Bhai, including his Free Fire ID, stats, K/D ratio, guild, income, and more. For further Free Fire updates, follow us on Twitter, Telegram, YouTube, and Google News.