Free Fire is one of the most famous battle royale game in the gaming industry, which has one of the largest growing community around the world. And because of the incredible growing craze of Free Fire among players, you can find a large number of Garena Free Fire YouTubers who upload daily videos focused on the game for fans to enjoy;
However, only a few have achieved milestones or achieved decent subscriber counts. Amit Bhai is one such name among them who have emerged popular by making content around this game.
So, today in this article we will try to reveal more details about Amit Bhai, such as: Amitbhai UID in Free Fire, his lifetime stats, K/D ratio, Guild ID, and some real-life information along with in-game information like this.
Who is 'Amitbhai' in Free Fire?
Desi Gamer, whose real name is Amit Sharma, is one of the most popular content creators as well as one of the Free Fire players from West Bengal, India. At the age of 24, he has achieved great success in his life as a frontline representative of India in Free Fire.
And he is notorious for his in- game skill, which is demonstrated through his vids on YouTube and he also is the oldest Free Fire YouTuber in india. His friendship and bonding with Ajjubhai (ie. Total Gaming) is well-liked by the people.
---
Amitbhai UID in Free Fire
Desi Gamers aka Amitbhai UID is 206746194, and his game-name is Amitbhai 🙂. He is the leader of the Survivors☆☆☆ guild, which id is 60727130 with a total glory of 45 lakh+. Amit Bhai also has V-badge.
---
In-Game Stats of Amitbhai ID:-
Amit bhai Level:
As of today, Amitbhai Free Fire ID level is 75 with over 31k+ likes.
Amitbhai ID's lifetime Stats in Free Fire: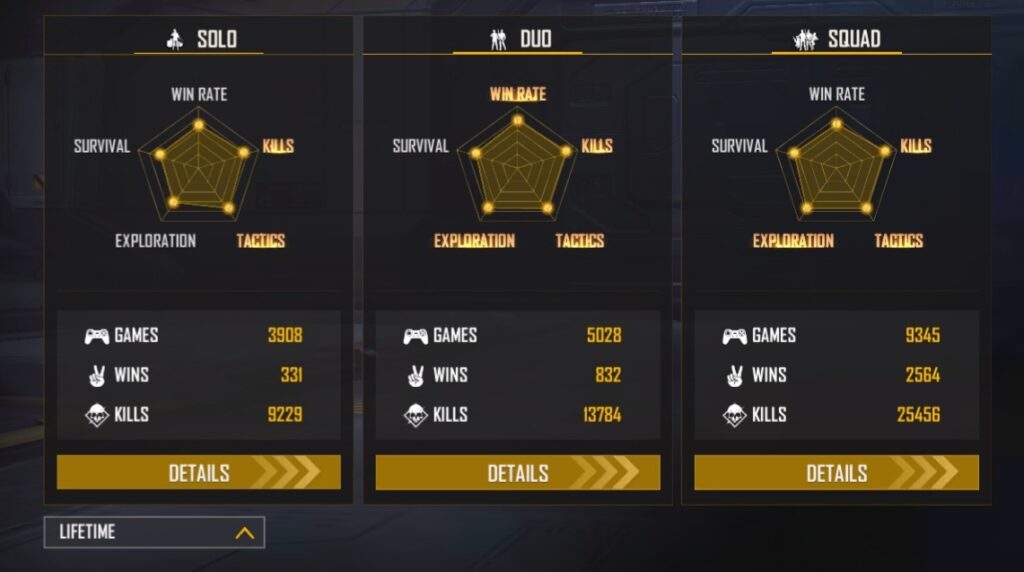 Amitbhai has played over 9345 squad games and won over 2564 matches with a total of 25456 kills as of the last update date of this article. And currently in the squad, his lifetime stats have a K/D ratio of 3.75. And his Duo Mode stats show that he played around 5028 games, winning over 832 matches with over 13784 kills to make a K/D ratio of 3.29. And in singles mode, Amitbhai ID played 3908 games with a K/D ratio of 2.58, winning 331 and hitting 9229 players.
Amitbhai's Ranked Stats in Free Fire:
Since the new BR-Ranked season just started yesterday, they haven't played any match so far. So in the rank statistics, we don't have any data for Amitbhai free fire id to show you.
Amit bhai FF id's CS Career Stats in Free Fire:
Amitbhai has played a total of 2673 games out of which he has won 1606 matches with 14897 kills and has maintained a K/D ratio of 1.74.
Amitbhai Free Fire ID's Clash Squad Ranked Stats in Free Fire:
The current rank season of Clash Squad shows that Amit Sharma has played a total of 63 games so far in the current season of Clash Squad and won 38 of those matches with 247 kills, giving them a K/D ratio of 0.97.
---
Amitbhai's YouTube Channel: Desi Gamers
Amit Sharma, commonly known as Desi Gamers, has already amassed 12.8 million subscribers on his YouTube channel who comes in the Top 10 Garena Free Fire Youtubers in India. He first started the channel on 11 May 2015 but actually he started uploading Free Fire videos regularly since 3 October 2018.Now he frequently posts videos of gameplay, pranks, funny challenges and moments videos. And till now he has uploaded around 1.1k+ videos on his channel.
---
Desi Gamer's Monthly and Yearly Income
According to Social Blade, the monthly income of Desi Gamers based on YouTube channel views is in the range of around $6.5K-104.6K and their annual income is in the range of around $78.5K-$1.3M. And apart from this, he also earns a lot from super chat, subscriptions, sponsorship, etc.
---
Amitbhai's Social Media Accounts:
Amitbhai Free Fire's Other Social Media Accounts
---
I hope this article helped you to know all about your favourite Free Fire YouTuber Desi Gamer's Free Fire ID Number, Stats, K/D Ratio, Guild Income and more.
Also Read: Total Gaming: Ajjubhai Uid, Real Name, Stats, K/D Ratio & More
And if you liked the post, please don't forget to appreciate us by starting this post with your other friends and for more Free Fire related updates, follow us on Twitter, Telegram, YouTube, and Google News.