The first strategic Pokemon team battle game, Pokémon Unite, is celebrating its first anniversary since its launch over the course of the next few months, and there are lots of festivities going on. And as such, Pokémon Unite developer TiMi Studio Group has announced details of the game's first anniversary events, including the new Pokemon, in an exclusive YouTube video posted on July 15, 2022.
This excitement will start on Thursday July 21st, 2022, which will introduce lots of new content, along with exciting updates and events happening in the game. So here's everything you can expect to see from Pokémon Unite's first anniversary celebration.
Pokémon Unite's 1st Anniversary Celebration Complete Details
Celebration Event start and end timings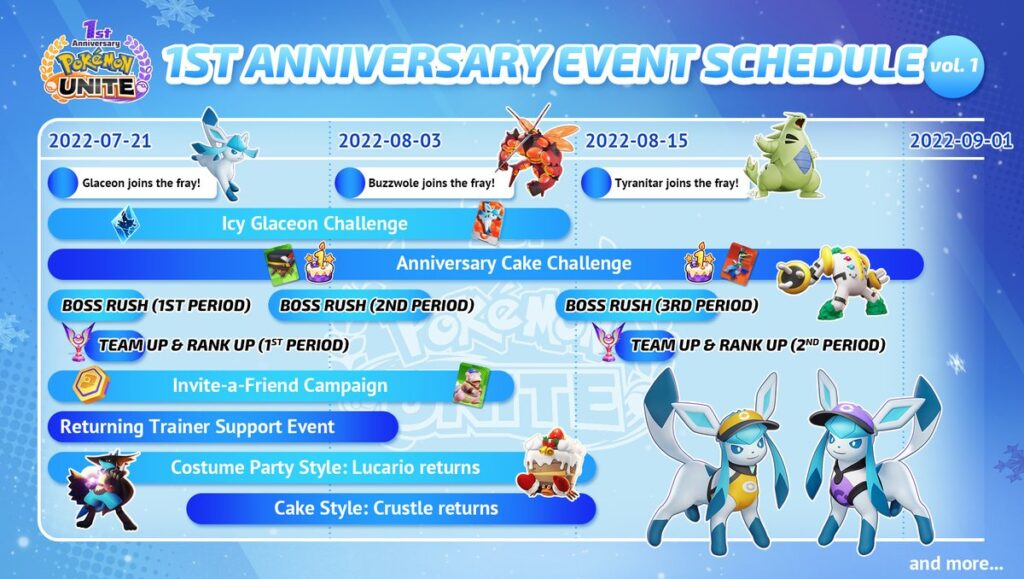 As said above, the Pokémon Unite's 1st Anniversary event will begin on Thursday, July 21, 2022 at 12:00 PM PDT and end at 4:59 PM PDT on Wednesday, October 12, 2022.
New Pokémon Unite Licences
The first anniversary event of Pokémon UNITE is offering players a wave of new Unite licenses starting July 21 at Gleason. And a second, BuzzVole, will join on Wednesday, August 3, and a third, Tyranitar, on Monday, August 15. Three more Unite licences will also come out in September, though.
Daily Login Bonuses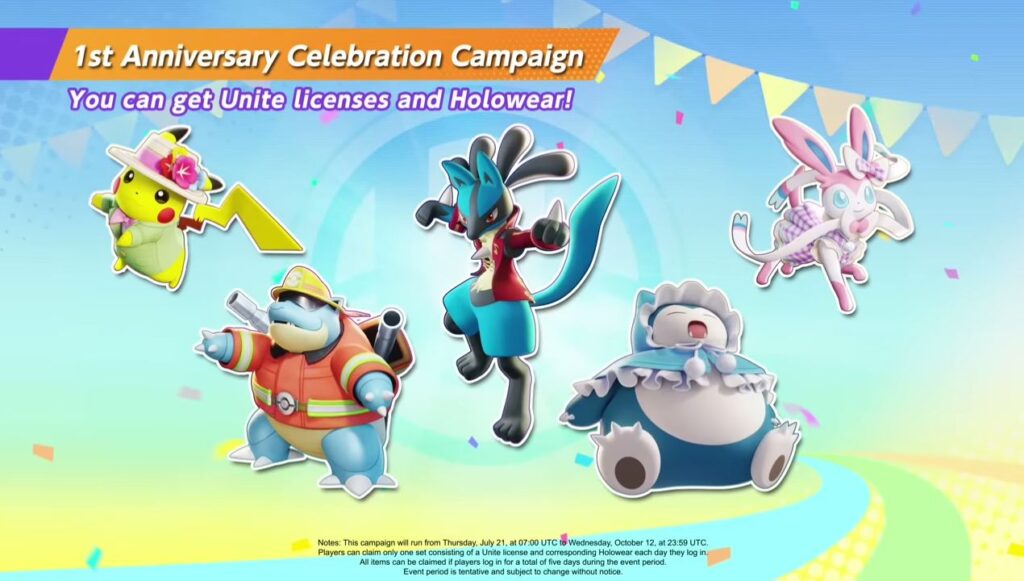 Apart from the introduction of 6 new unite licenses, Pokémon UNITE giving away some free unite licences and holowear just for logging in during the anniversary event. And players will only need to log in to game for five days between July 21, 2022, 12:00 AM PDT and October 12, 2022, 4:59 PM PDT to receive the following rewards:
Day 1: Pikachu & Fashionable Style: Pikachu
Day 2: Lucario & Concert Style: Lucario
Day 3: Blastoise & Firefighter Style: Blastoise
Day 4: Snorlax & Bedtime Style: Snorlax
Day 5: Sylveon & Checkered Style: Sylveon
And if players already own the these rewards, they will receive 100 Aeos coins instead for each items they already own.
New Game Mode: Boss Rush
On the 1-Year celebration, a new quick battle game mode called "Boss Rush" will also be introduced in which they team up with other players to defeat powerful Boss Pokémon that appear one after the other. And the higher the team scores in the Boss Rush ranking, the better rewards they get. And as officially mentioned, Boss Rush Mode will only be available during the three specific periods listed below throughout the anniversary celebrations:
Period 1: Thursday, July 21, 2022 – Sunday, July 24, 2022
Period 2: Sunday, July 31, 2022 – Sunday, August 7, 2022
Period 3: Sunday, August 14, 2022 – Sunday, August 21, 2022
Season 9 of Battle Pass: Band Style – Pikachu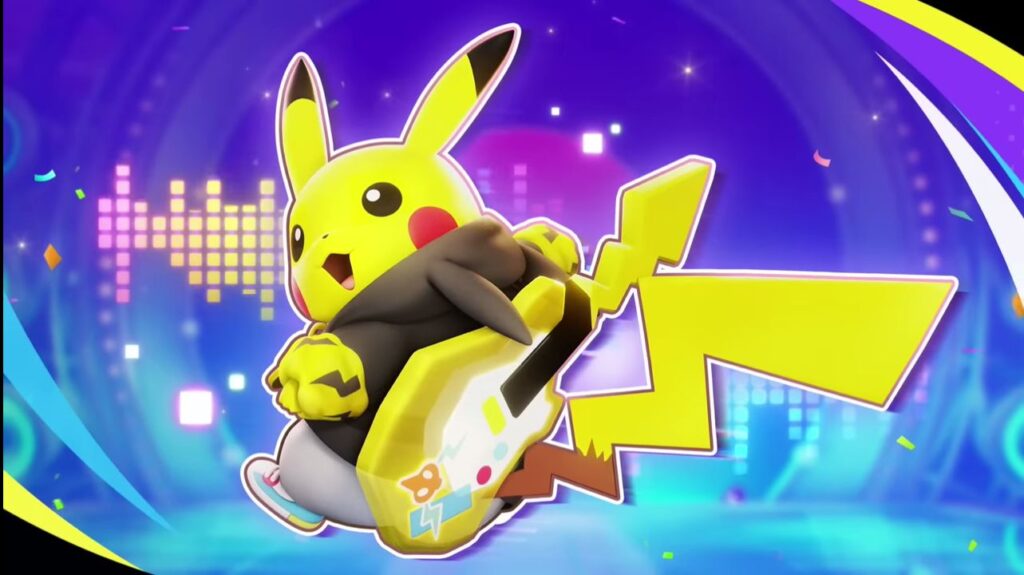 The first anniversary event of Pokémon UNITE also brings with it the Season 9 Battle Pass, which includes Band Style: Pikachu Holowear and Songstress Style: Wigglytuff Holowear. As always, this new Battle Pass season will bring new rewards, including special Battle Pass missions that reward players with Battle Pass special tickets. And players can exchange these tickets for holowear, trainer fashion items, and other prizes at the exchange booth.
Season 5 of Ranked Match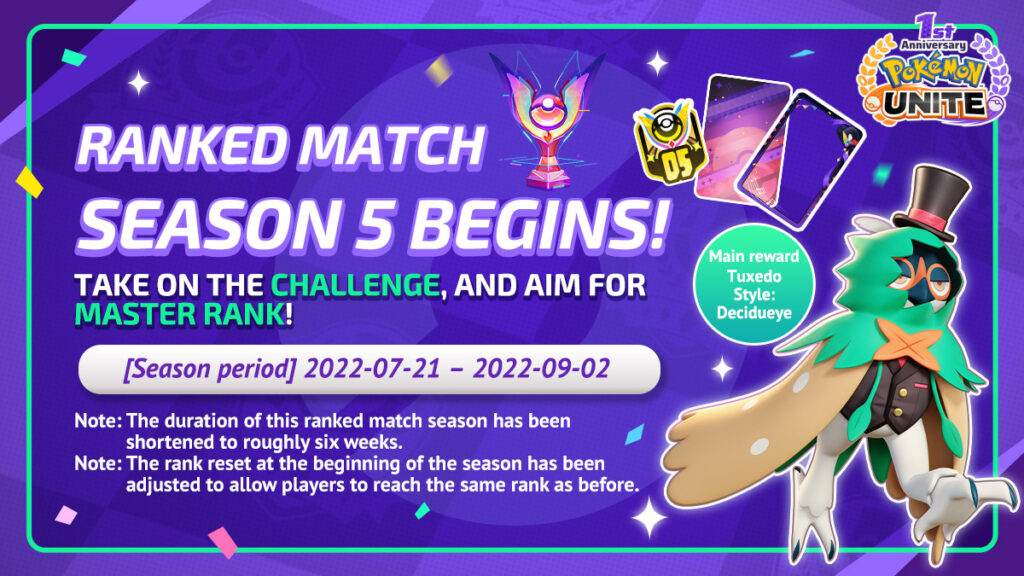 As well as Pokémon UNITE's Season 9 of Battle Pass, Ranked Match Season 5 will also debut in the game with a Tuxedo-style Decidueye and many other rewards such as Unite Snapshot Portrait Frames, stickers and portrait backgrounds.
New Feature – Pokémon Boost Emblems
According to sources, the Pokémon Boost emblems is also being added to the pool of items as a new feature that players can get as energy rewards. And there are three grades of the Pokémon Boost emblems: gold, silver, and bronze. Additionally, players can also create custom loadouts to use the effects of the Pokémon Boost emblems in battle.
Anniversary Cake Challenge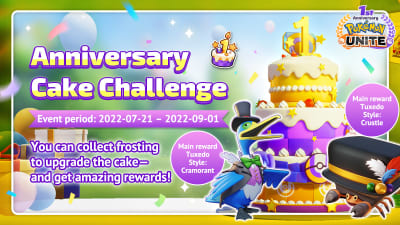 And yeah, since there wouldn't be much festivity without cake, instructors from 12:00 a.m. PDT on July 21, 2022 to 4:59 p.m. PDT on September 1, 2022 will be able to collect frosting for the ongoing Anniversary Cake Challenge. And during the duration of the event, players can get frosting for logging in, fighting, and completing missions. After collecting them, the player can complete the anniversary cake and get various rewards.
Friend Invitation and Callback Campaign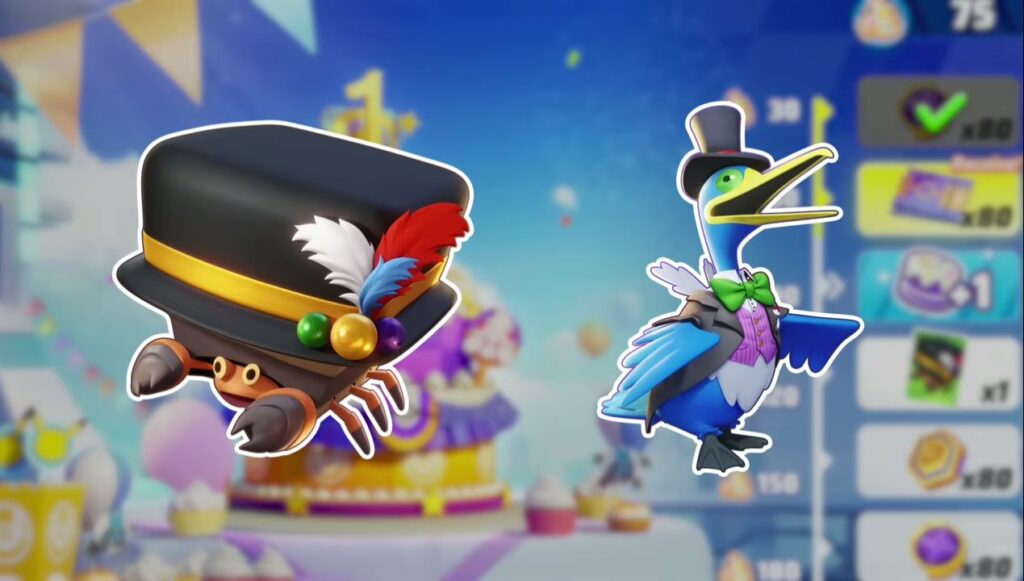 In addition to all of the above, like many other games, Pokémon UNITE is also bringing friend invites and callback events. Where both players and their friends can receive tonnes of rewards by inviting new friends to Pokémon Unite or teaming up with friends or other players who haven't logged into the game for more than 14 days.
---
In the end, Happy Anniversary to all Pokémon Unite players. Are you still enjoying Pokémon Unite after a year? Leave a comment below. And make sure to follow us on Twitter, Telegram, and Google News for quick updates on the Pokémon Unite game.