Free Fire, one of the biggest giants in battle royale games, has released 51 Elite Passes so far. And as the current Free Fire Season 51 Elite Pass is coming to an end, the excitement of a new upcoming Season Elite Pass is increasing in players and its leaks too.
Many gamers are looking for more information about this upcoming Elite Pass, which will be Free Fire's 52nd Elite Pass. And several FF data miners have already shared some leaked info on it.
Today we've gathered those leaks and brought you this post, which explains what the next Free Fire Elite Pass is going to be like, when it's going to launch, and many more. So let's move on.
Free Fire Season 52 Elite Pass Start Date
As always, the upcoming Elite Pass Season of Free Fire will start on the first day of the month, i.e., September 1, which will bring many new rewards for the players. They will be able to buy it for 499 or 999 diamonds and have to earn badges by completing elite pass missions to claim various items.
Free Fire Elite Pass Season 52: Preorder Reward and Cost
But before the next Elite Pass, the pre-order phase will also begin very soon, offering a special reward to those who pre-order the upcoming pass. And, as expected, pre-orders will begin tomorrow, with price of 999 diamonds. And talking of pre-order rewards, it will be a mask skin called "OCEAN", which you can see below.
Season 52 Elite Pass: Rewards
The 52th Elite Pass will be based on the same concept as the previous elite passes, with lower prices and higher rewards. However, there will be several rewards involved at different levels depending on how many badges you have unlocked. So here are the main prizes for the upcoming Season EP.
Exclusive Bundles:
Male Bundle – Megajaw Tormentor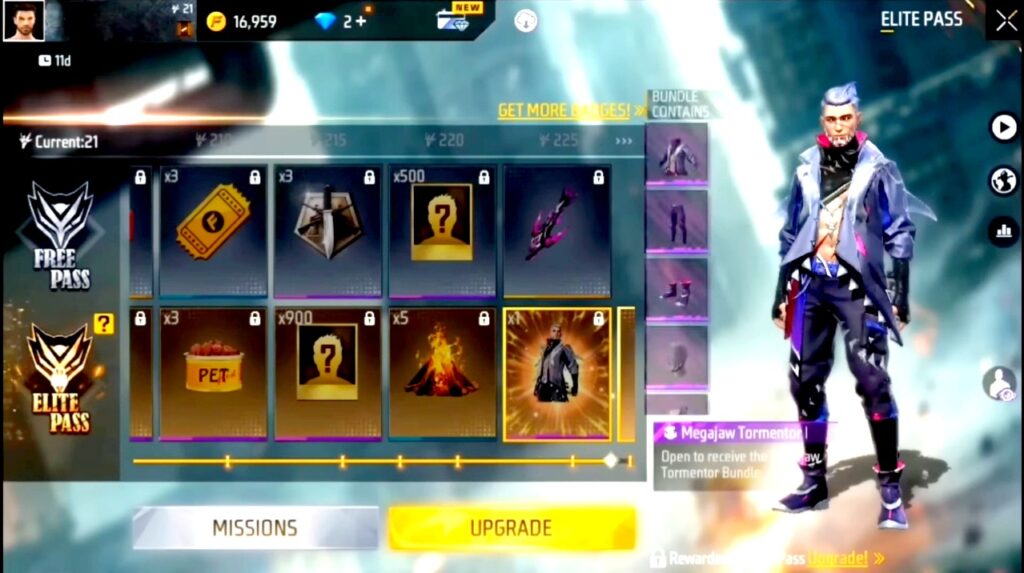 As always, the September Elite Pass will also have 2 featured bundles: a Megajaw Tormentor bundle that can be obtained for 225 badges, and this bundle comes with five sets and a unique interface.
Female Bundle – Megan Taunter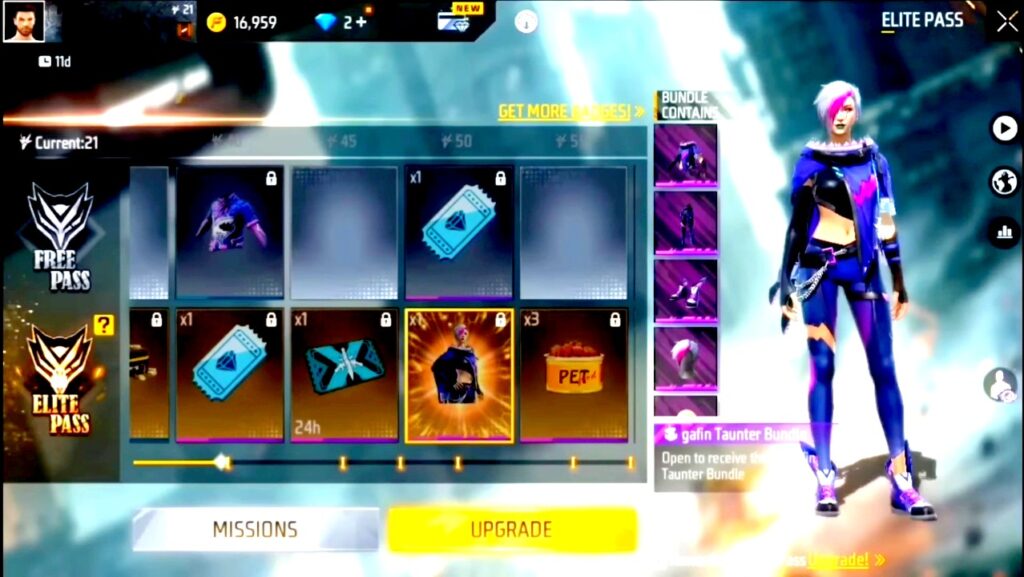 The second featured bundle in the 52th Elite Pass will be a female bundle called the Megan Taunter. This can only be achieved with only 50 badges. However, it has lower quality animations than the male bundle.
Weapon and Vehicle skins:
Metal Jaws – Sports Car Skin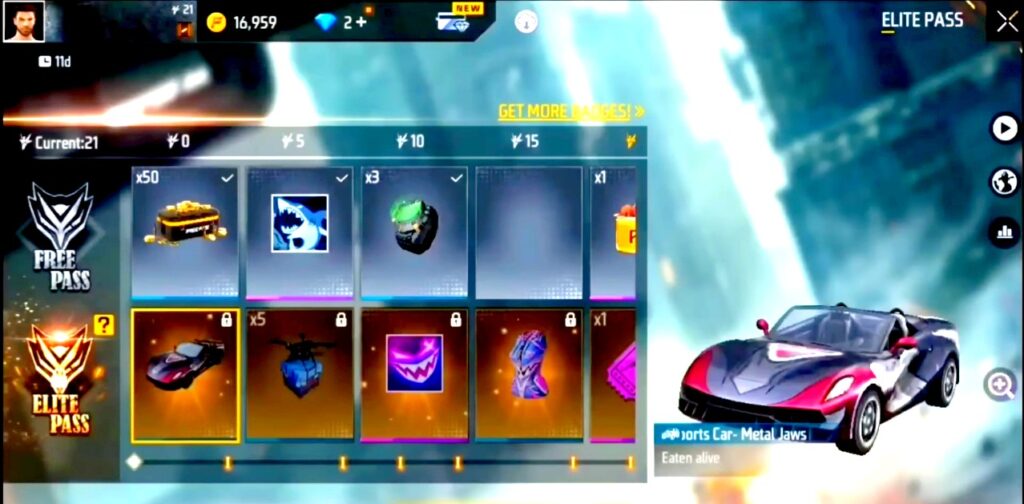 As you might know, Free Fire keeps bringing in tonnes of skins for vehicles going to and from different types of events. So this time around too, they aren't far behind and are bringing a new car skin into the game this month, the Metal Jaws Sports Car Skin. And the good thing is that it will probably be completely free.
Flesh Devourer – Grenade Skin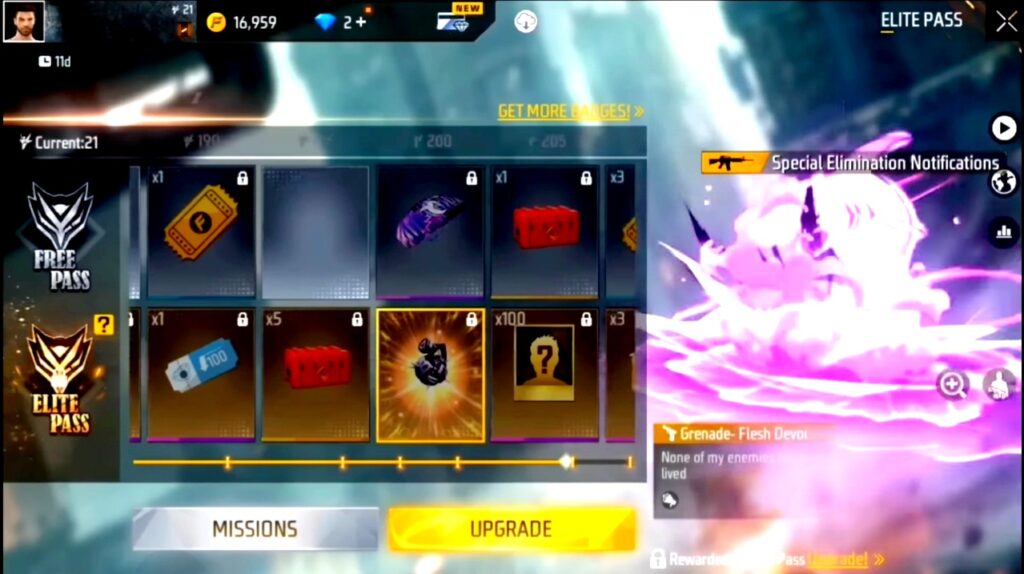 The Free Fire Season 52 Elite Pass will also feature a grenade skin called Flesh Devourer, which can be claimed after completing 200 badges. And there will also be good animation effects.
Apex Underwater – AUG Weapon Skin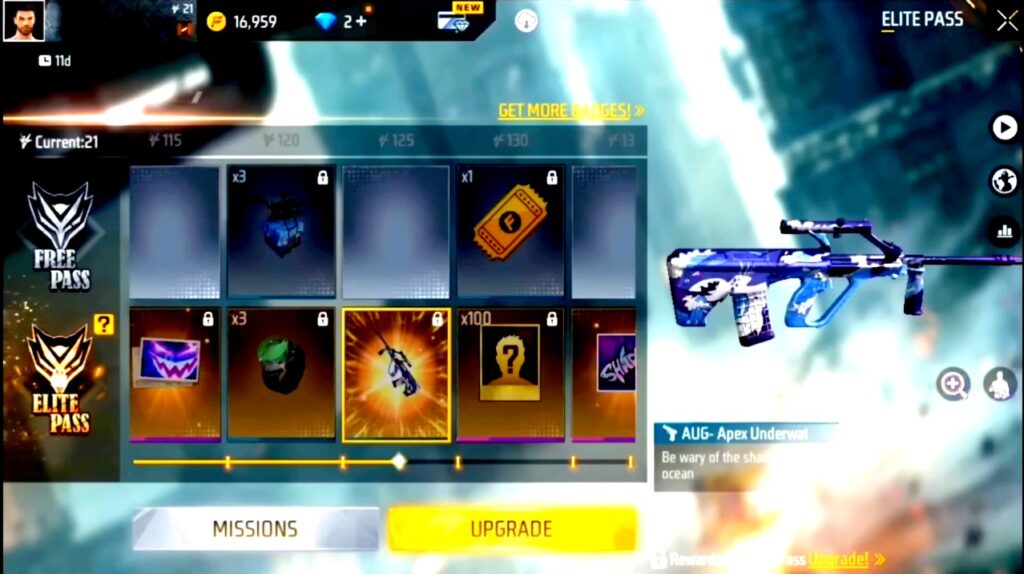 Along with the Grenade skin, Garena is also bringing a new AUG Weapon skin to the Free Fire game. And this Apex Underwater AUG Weapon Skin can be obtained for the 125 badge and does not give any special abilities.
Apex Underwater – Kar98k Weapon Skin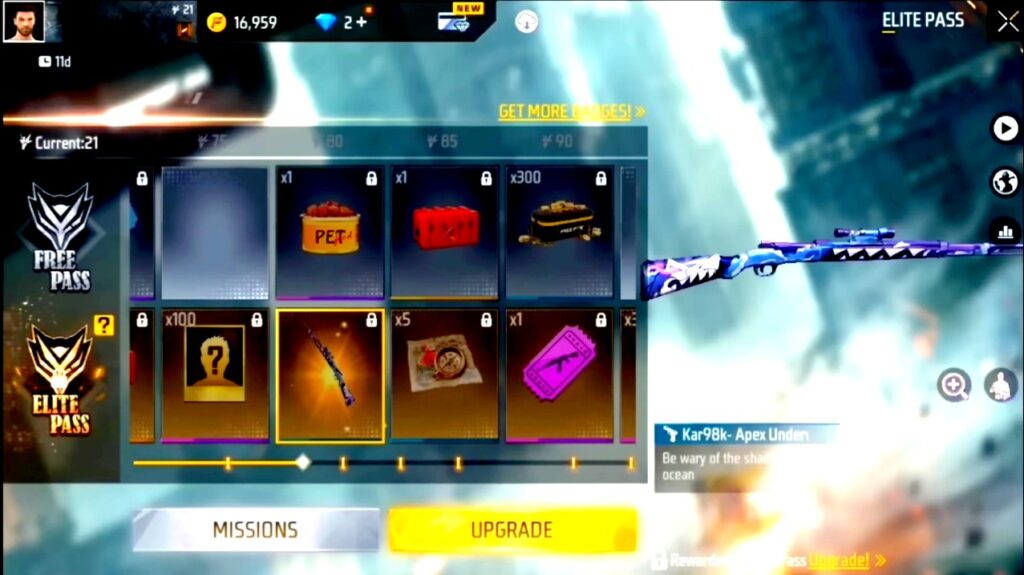 September's Elite Pass will come with a Kar98k skin called Apex Underwater, which requires 80 badges to obtain.
Surfboard and Lootbox skins:
Metal Jaws- Lootbox Skin
An animated lootbox skin, Metal Jaws, will be in the Season 52 Elite Pass and can be obtained upon completion of 150 badges.
Ocean Runner – Skyboard Skin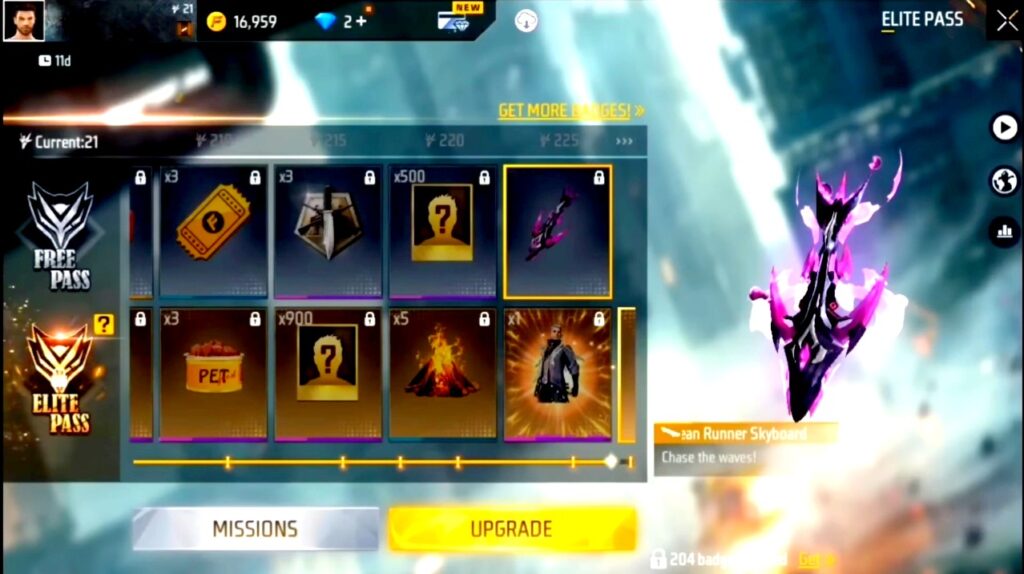 And the Ocean Runner, skyboard skin is also coming into game on the 100 badges in the September Elite Pass.
Here's a short list of what rewards you'll get for how many badges in upcoming elite pass in free fire:
| Badges | Rewards |
| --- | --- |
| 0 | Metal Jaws Sports Car |
| 5 | Ocean Beast Avatar |
| 10 | Shark Fright Avatar Avatar |
| 15 | Jaw Smile Jacket |
| 30 | Death Tooth Banner |
| 40 | Hungry Fishy T-Shirt |
| 50 | Megan Taunter Female Bundle |
| 80 | Apex Underwater – Kar98k |
| 100 | Fright Bite T-Shirt & Ocean Runner Skyboard |
| 115 | Shark Fright Banner |
| 125 | AUG – Apex Underwater |
| 135 | Death Tooth Avatar |
| 150 | Ocean Monster Banner & Metal Jaws Loot Box |
| 200 | Flesh Devourer Parachute & Grenade – Flesh Devourer |
| 225 | Hollow Swallow Backpack & Megajaw Tormentor Bundle |
Free Fire September Elite Pass Rewards
---
How to Get the Free Fire Season 52 Elite Pass?
Step 1: Open Free Fire Max and go to the 'Elite Pass' section by clicking on its icon on the left side of the screen.
Step 2: In the next step, click on the 'Upgrade' button and choose either of the two options.
Step 3: Now complete the payment using diamonds and you're done!
---
These are the expected leak rewards for the elite coming in Free Fire. Sometimes it can be something different, but not that much.
So what do you think of the upcoming Elite Pass? Let us know via the comments below & for more quick updates and news about Free Fire, join our Telegram channel or Discord server. Also, don't forget to hit the follow button on Google News and Twitter.