Free Fire has gained massive popularity over the years, increasing in popularity since its release, but the situation has changed since the ban in India and the popularity seems to be declining, leaving Garena at a loss. Recently, the company closed his streaming app "Booyah" due to losses.
But having had a massive player base before that, the widespread popularity of Free Fire has led to the emergence and subsequent success of game-related content creation and its esports scene, becoming the main reason for the increase in the number of content creators in the Free Fire community.
Raistar is one such name in the Free Fire community that has become so popular because of his fast and impressive gameplay. Here, in this article, we'll get to know Free Fire ID of Raistar, their K/D ratio, stats, guilds, and their estimated monthly and yearly earnings, among others.
Who is 'Raistar' in Free Fire?
RaiStar, aka Akshay, once known by his real name, is one of the top Garena Free Fire YouTubers in India and also the most popular player in the Free Fire game with a huge fan following on YouTube and other social media sites. He is also regarded as the "one tap headshot hacker" for his impressive gameplay and Free Fire's "fastest player" because of his speed.
Raistar is 19 years old in real life, and as I said above, the real name of Raistar is Akshay. He lives in the state of Kerala in India. Raistar has not revealed his face publicly yet, but many leaked pictures of his face are available on the Internet.
Raistar Free Fire ID in Free Fire
Raistar's Free Fire ID is 12022250 and his in-game name is ꧁•ᏒคᎥຮᴛαʀ࿐. With over 37000+ likes, Raistar's current level is 76. Talking about the device, the popular content creator has shifted it to the emulator after playing Free Fire on mobile.
Raistar Guild ID in Free Fire
At present, Raistar is part of the RAI BROTHERS Guild, whose ID is 61575940. And its glory is over 37 Lakh+. Earlier, Raistar was part of the GʏᴀɴGᴀᴍɪɴɢᴳᴳ guild, which is one of the most popular in Free Fire, where many top FF YouTubers are in this guild, including Gyan Gaming and many others.
In-Game Stats of Raistar ID:-
BR Career
In lifetime BR Career, Raistar has played 16532 squad games so far, winning 2760 of them with a win rate of 17.52%. has approximately 54411 kills and a 3.95 K/D ratio. In Duo mode, he has 707 booyahs in 4502 matches, giving him a win rate of 15.81%. With 14388 kills in these matches, his K/D ratio is 3.79. And he has played 3550 solo matches with a win rate of 11.40%, winning on 401 matches. Also Raistar Free Fire ID has a K/D ratio of 3.42 in this mode by eliminating 10778 opponents.
BR Ranked
Raistar has not played any matches in any of the modes in the current BR-Rank season.
CS Career
He has played a total of 4154 matches in its CS career, out of which it has won 2139 matches with 31706 kills and maintained a K/D ratio of 1.79 and a win rate of 51.49%.
CS Ranked
Like BR rank, Raistar did not play a single match in current CS ranked mode, and his stats are 0 & 0.
Raistar's YouTube Channel
Akshay created his main channel "Raistar" on November 4, 2019, but this, which has a lot of subscribers, doesn't have many videos because the creator uploads very few on it. But still, no viewers tend to unsubscribe him, and his gameplay is adored by everyone, as a result of which, at just 35 videos, he has achieved a subscriber count of over 7.1 million on his channel, where he mainly posts gameplay videos related to the Garena Free Fire.
The last video on this channel was uploaded 6 months ago and has gotten more than 4.7 million views. Also, apart from gameplay videos, he regularly streams his gameplay, live streams Challenges, VS and much more on his second channel, "Rai Live", which is exclusively dedicated for live streaming.
Raistar's Monthly and Yearly Income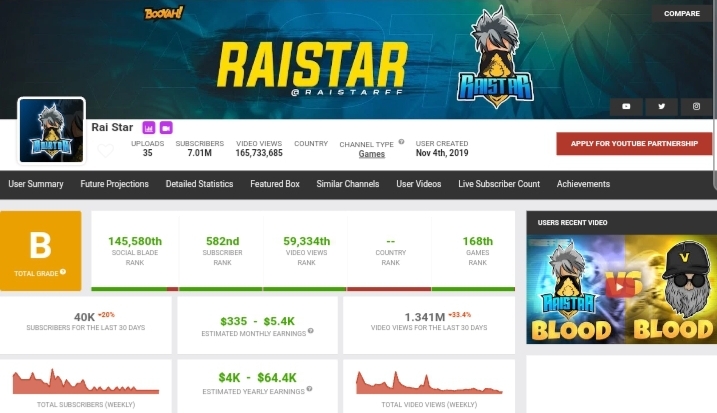 According to Social Blade, Raistar's channel has an estimated monthly income of between $335 and $5.4K from YouTube. Meanwhile, his annual earnings range between $4K and $64.4K. And apart from the main channel, he also earns around $253 and $4.1K monthly income from his other live streaming channel, Rai Live. He also earns income from Super Chats, subscriptions, and sponsorships.
Raistar's Social Media Accounts:
That's all for today's post, Free Fire Youtuber Raistar UID, Stats, K/D Ratio, Guild, Income, etc. And the last thing to note is that all the numbers or statistics given above are taken at the time when this article was written or last updated. All figures are subject to change from time to time. So make sure to cross-check all these numbers, as they may vary slightly, but not too much.
---
For more Free Fire related news and updates follow us on Google News and Twitter. Also, don't forget to join our Discord and Telegram channel so you can be notified quickly!