Diwali, the biggest festival of light in India, is just around the corner, and as always, Garena Free Fire knows how to celebrate it in its own way. This time, Garena is all set to make it one of the largest events of the year, which will bring more joy, excitement, and rewards than ever before, with a series of interesting events and rewards.
And for the celebration, Garena has also released a video to announce that there will be a lot of exciting shows coming out soon, with many extraordinary rewards. And in fact, the Free Fire Diwali Event 2022 Calendar has also been officially revealed, confirming the awards along with a list of upcoming events. Keep scrolling down for more details on the much-anticipated event this October.
Free Fire Diwali Event 2022 Start & End Date
Garena named this brand new Diwali event "Light Fest", which falls on the day of Diwali on October 24th. However, players can enjoy the Free Fire Diwali Event 2022 two weeks ahead. The event will last from October 7 to October 28. In the meantime, the game will be loaded with Diwali themed content during the event, where we'll introduce game items such as airplanes, airdrops, loading screens, and more, and specific tokens and in-game items to complete the special event's tasks.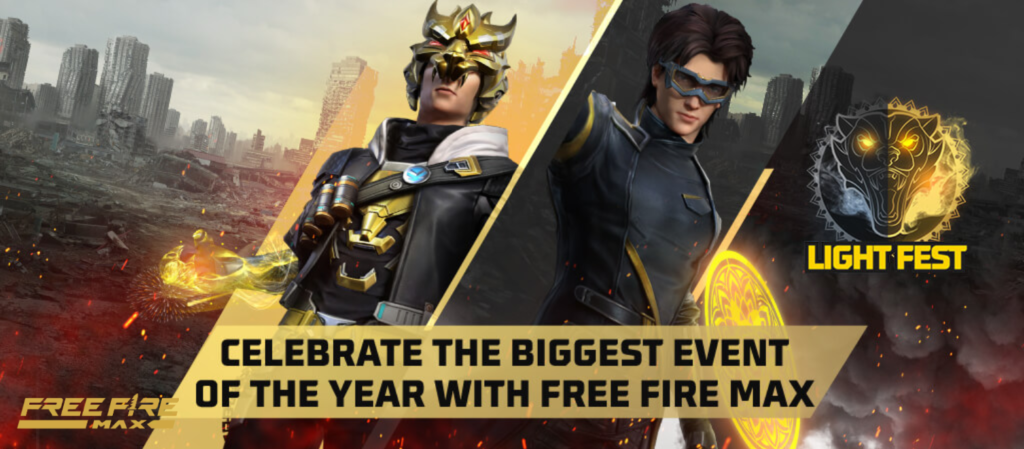 And while the celebration lasts, players will also be able to participate in several events to win freebies in the game. From which you will be able to claim rewards like weapon skins, pots, diamond vouchers, pet food, bundles and much more included in the rewards list.
Free Fire Diwali Event 2022 Rewards Details
Here is the list of Garena Free Fire Diwali Event 2022 rewards:
Fist — Claws of Fury
Granade — Tiger Attack
Magic Cube — 100 Fragments
Golden Tiger Token
Banner — Flaming Beast
Gloo Wall — Roaring Protector
Male/Female Bundle — Roaring Night Bundle
Lootbox — Last Roar
Pan — Roaring Flame
Scarf — The Royale Bit
Avatar — The Golden Tiger
Backpack — Tiger Clae
Skyboard
Emote — Let's Go/FFWS 2021/One Finger Pushup/Great Conductor
Monster Truck Skin — Roaring Wheel
Parachute — Predator in the Sky
Knife — Dagger
Grenade — Festivities
Free Pet — Finn/Agent Hop/Ottero/Detective Panda
Free Gun Skin — M1014 Enhanced Armour/Kingfisher – Moonlight Ballad/Vector – FFWS/AWM – Wavebreaker Kaze
Name Change Card
Free Incubator Voucher
Free Fire Diwali Event 2022 Calendar Details
As we have mentioned earlier, the Free Fire Diwali event will start on October 7th, 2022 and will go on till October 28th, 2022. During this period, more than 10+ different events will be offered.
Here's the Free Fire Diwali event 2022 calendar along with their start and end dates:
| | |
| --- | --- |
| 7 to 28 October | Gather the Light |
| 7 to 13 October | Login Back Event |
| 8 to 9 October | Free Loot Box |
| 14 to 24 October | Daily Magic Cube Missions |
| 15 to 16 October | Play To Win Bandana |
| 14 to 28 October | Fight the Darkness, Gather the Light Event |
| 14 to 21 October | Monster Vehicle Skin(Login Reward) |
| 21 to 27 October | Light Royale |
| October 22nd | Skyboard(Login Reward) |
| October 23rd | Shirt(Login Reward) |
| October 24 | Playtime Rewards & 4-hour Challenges (Magic Cube, Incubator Vouchers, Name Change Card, Gun & Grenade Skin) |
| 25 to 28 October | Light Fest Party |
| 17 to 31 October | Light Pass Event |
Free Fire Light Fest Event Calendar
That's all! These are some of the officially announced prize lists for, and more are soon to come with other Free Fire Diwali celebration events. Are you excited about this "Free Fire Light Fest Event"? Let us know via the comments!
---
Follow us on Google News and Twitter for more Free Fire news and updates. Don't forget to join our community Discord and Telegram Channel, so you can be notified quickly!