Garena Free Fire will continue the tradition of bringing a new Elite Pass each month, as with the previous 49 Elite Passes (including the current season). The time is coming for the current season to end, so Garena Free Fire is ready to introduce a new season. This will be the 50th Elite Pass of Free Fire and will take place in the game on July 1 with exclusive rewards.
So, let's find out more about the upcoming Free Fire season 50 Elite Pass rewards.
Free Fire Season 50 Elite Pass Trailer:
Free Fire Season 50 Elite Pass Rewards:
Exclusive Bundles
Cyberoid Stringer: Male Bundle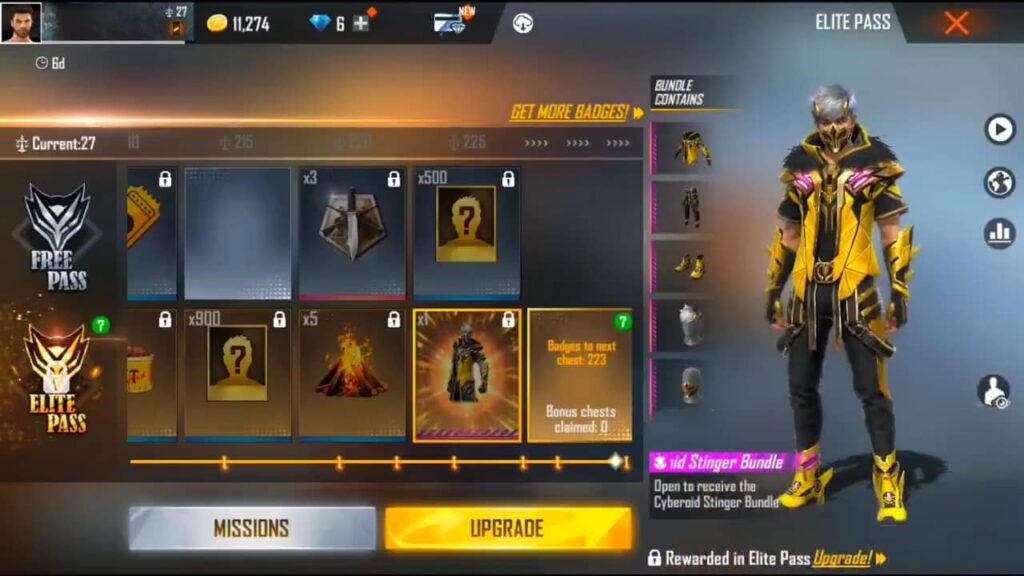 As usual, the July Elite Pass will also have 2 featured bundles: a Cyberoid Stringer male bundle that can be obtained at 225 badges and this bundle comes with five sets and a unique interface.
Cyborg Piercer: Female Bundle
The second featured bundle in the 50th Elite Pass will be a female bundle called the Cyborg Piercer. It can be obtained only with 50 badges. However, it has lower quality animations than the male bundle.
---
Weapon and Vehicle Skins
Pickup Truck Vehicle Skin: Apocalyptic Swarm Skin
As you might know, Free Fire keeps bringing a lot of vehicle skins to and from different types of events. So this time too, they are not lagging behind and are bringing a new pickup truck skin, the Pickup Truck Apocalyptic Swarm Skin, into the game this month as well. And the good thing is that maybe it will be absolutely free.
Grenade Skin: Bumble Slicer
The Free Fire Season 50 Elite Pass will also have a grenade skin called Bumble Slicer that can be claimed after completing 195 badges. And there will be good animation effects too.
Parafal Weapon Skin: Bumble Attack
Along with the Grenade Skin, Garena Free Fire is also bringing a new Parafal weapon skin to the game. And this Bumble Attack Parafal Weapon Skin can be obtained for 125 badges and does not give any special abilities.
Melee Skin (parang): Bumble Slicer
The 50th Elite Passs of Free Fire will arrive with a melee skin called the Bumble Slicer (Parang), which requires 89 badges to obtain.
---
Also Read: Free Fire All Elite Pass Bundle List, Name [Season 1 To 49]
---
Surfboard and Lootbox Skins
Wasp Danger: Loot Box Skin
An animated lootbox skin, Wasp Danger, will take place in season 50 elite pass, and it can be obtained on completion of 150 badges.
Apocalyptic Swarm: Skyboard Skin
And the Apocalyptic Swarm Skyboard Skin at 100 badges in July Elite Pass is also coming into the game.
---
Here's a short list of what rewards you'll get for how many badges in upcoming elite pass in free fire:
| Badges | Rewards |
| --- | --- |
| 0 | Pickup Truck Apocalyptic Swarm |
| 5 | Bee Soldier Avatar |
| 10 | Terror Wasp Avatar |
| 15 | Yellow Stripeline Jacket |
| 30 | Bumble Conquer Banner |
| 40 | Yellow Stripeline T-shirt |
| 50 | Cybporg Piercer |
| 80 | Bumble Slicer |
| 100 | Luminous T-shirt + Apocalyptic Swarm Skyboard |
| 125 | Bumble Attack Parafal Weapon Loot Crate |
| 150 | Wasp Danger Loot Box |
| 195 | Grenade Apocalyptic Swarm |
| 200 | Bumble Threat Parachute Skin |
| 225 | Cyberoid Stringer Bundle |
Free Fire July Elite Pass Rewards
That's all for this post, guys. Hopefully, it helped you find some leaks. And did you know that Free Fire launched how many elite passes? If not, you can check out our list of every elite pass in Free Fire. 
---
For more such updates Keep an eye on GameRoid and don't forget to follow us on Twitter, Instagram, and YouTube.