Whether you are a beginner or a seasoned player, as a gamer, the well-known addition, the levelling system, affects you little in the game. Primarily, it's one of the things that separates the newbies from the pros above, but on the other hand, this system can be something major, or it does matter, or at least until a certain point in the battle royale title, Free Fire. But how? Well, level up in Free Fire in the beginning means unlocking certain features and later each milestone or fame or earning rewards for higher levels.
So if you know how to level up fast in Free Fire Max, you'll start unlocking features and modes much faster, which in turn gives you access to spend your hard-earned gold coins on more rewards. But, to be clear, there aren't any specific cheats or glitches you can use to rocket yourself through the levels in Free Fire, but there are several ways that provide 100% legitimate ways to max out the EXP you're earning in the game. If you're set to access all of the rewards that levelling up has to offer, then here's what you need to know about level up fast in Garena Free Fire.
Tips to level up faster in Free Fire Max
Leveling up requires experience points called "EXP", which are gained after each match mode available, except for training and custom rooms. However, here are the ten best tips that you should follow to increase your level in the game fast by gaining more EXP.
1. Use Experience Card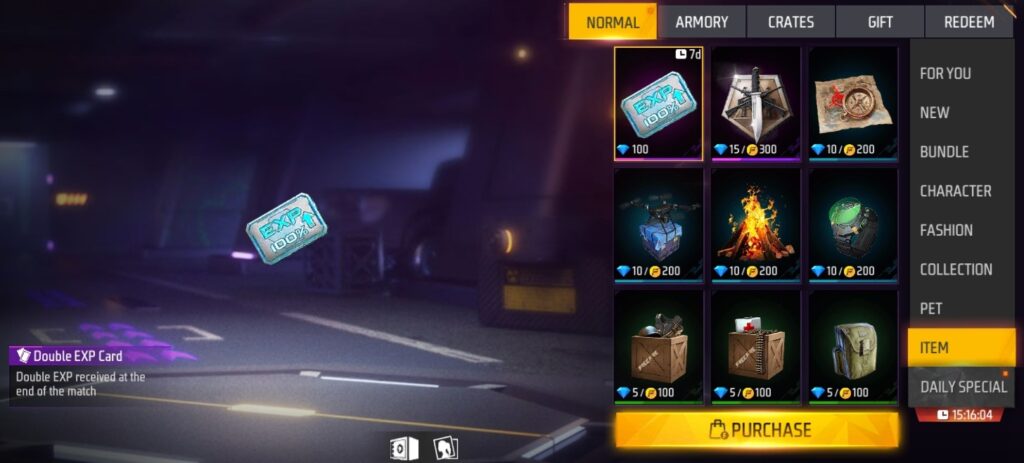 When it comes to the fastest way to level up in Free Fire Max, then using the 'Double EXP Card' is the best way, which cannot be denied. That's why we put it there in the first place. Exp cards, or experience cards, are items that can level up by doubling players' experience points for the amount of time that they have gained after the match is over.
So far, there are only two types of such cards available in the game: the first is the Double EXP card, which increases EXP by 100%, and the second is the 50% EXP card, which increases EXP by 50%. And thanks to Garena, there are several ways to get these cards, such as using diamonds that can be purchased from the power-up section in the in-game store or obtained for free from multiple events or guild tournaments. But it should be noted that these cards cannot be obtained permanently.
2. Complete Daily Missions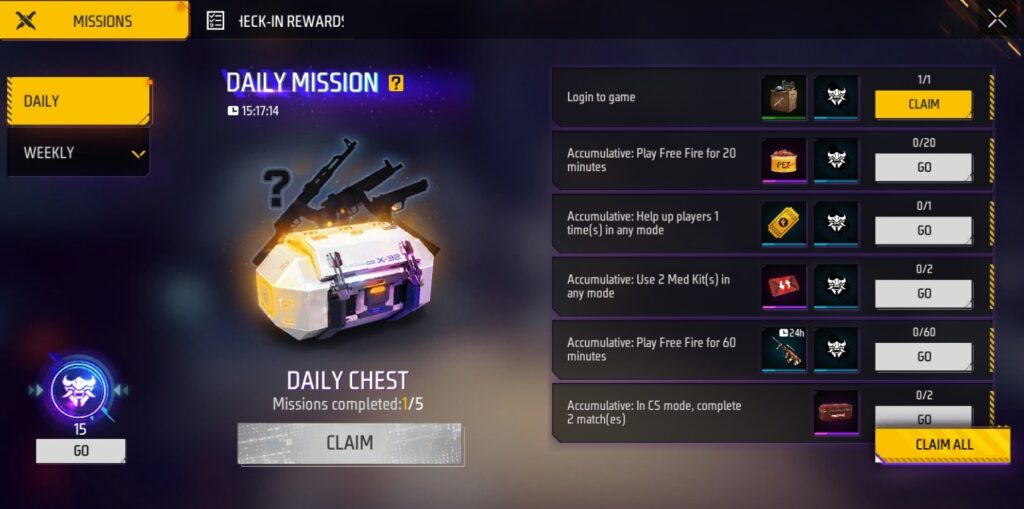 In Free Fire, daily missions or activities are another great way to level up quickly in Free Fire. It can help you get some extra experience points. Daily missions are available near the map section of the game, in which players can select the mission that will reward them with the most experience points and focus on completing it.
Once you've completed them, these missions bring great rewards, and clearing them every day will also make your levelup process a lot faster. And overall, most of these missions are very easy and a few can be completed while just playing the normal game.
3. Increase Playtime
Level mainly depends on EXP. And your level is also directly related to the amount of time you spend in the game. The more time you put into the game, the more EXP the game will give you. Your time playing the game directly affects the level, so if you try to play at least a few hours a day more than the current playing time, it can quickly level up. But that doesn't want you to become an addict, so be sure to manage your play time.
4. Play Rank Matches
BR Ranked mode is known for its survival-battling gameplay, while Clash Squad Rank is known for its fast-paced gameplay. Both could prove to be the best ways to earn EXP and level up fast in Free Fire. And as mentioned earlier, survival time plays a vital role in getting more experience, and having BR ranked matches lengthiest, gives them more XP than the normal mode.
Plus, add double exp cards to Cs rank mode and you'll earn loads of exp in no time, depending on what milestone you're at. So just play Battle Royale or Clash Squad, but play their ranked version. Since the points gained depend on your own performance, it is best to win with as many kills as possible for maximum experience points.
5. Play with Good Squad
Gamers can play solo, duo, or squad matches as they like, but Garena focuses heavily on Free Fire's ranked squad gameplay, and a well-coordinated team is the easiest way for you to level up quickly. And even if you don't get a lot of kills, your placement on the table will be higher, which weighs more in the exp distribution.
However, your squad needs to be good for this strategy to work. So instead of going alone, try to communicate and coordinate with your team members and work together and do your own work. So not only do squad matches give significantly more experience than classic matches, but they also train you for squad gameplay.
Also Read: How to Change Guild Name in Free Fire Max – Step-by-Step Guide
6. Play on Kalahari Map
Playing on the Kalahari map is the next best option to increase level in Free Fire quickly. The smallest map in Free Fire is meant for intense combat, where players can complete more matches in a set amount of time, which makes it the best map to move up the levels higher. But not for every type of player. Only experienced players should opt for Kalahari as it is known for its aggressive gameplay.
7. Rush Less, Survive More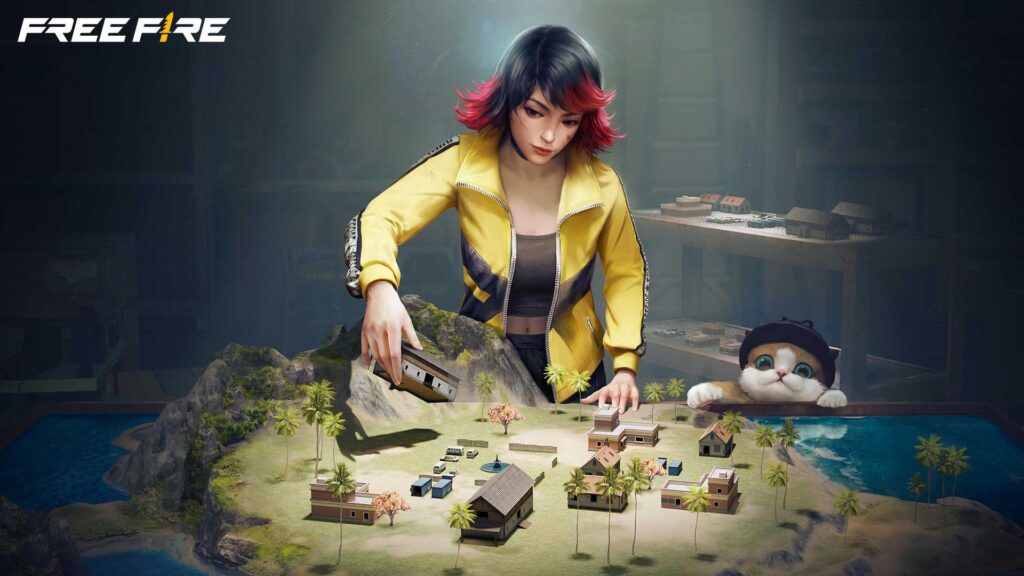 Survival time is one of the most important factors for getting more experience than rushing. Here, it does not mean that players have to win every match. If they are not so proficient in the title, they can continue to roam the battlefield passively to prolong their survival time.
Thus, players should try to avoid early elimination as much as possible. And while descending, a better approach would be to ignore the airdrops and blue zones; Should at least stay in the top five rank.
8. Play with Good Character Combination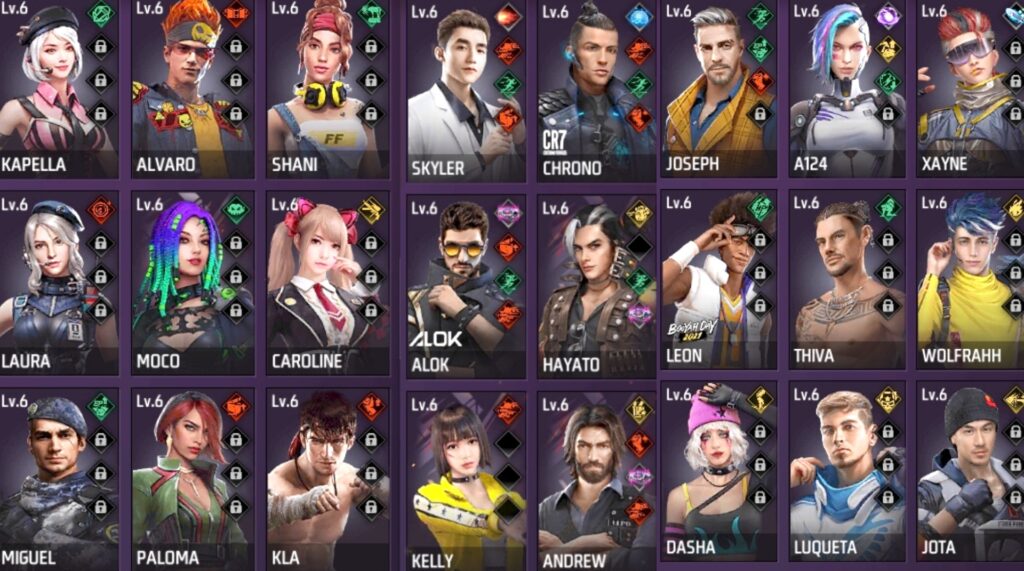 Free Fire comes with over 34 characters, each with unique abilities and powers, but not all can give you the results that a good character combination can. So, equipping yourself with the best character skills can help you survive longer in the game.
Combining and equipping characters like Alok, K, Dimitri, Jota, and Skyler before entering a match quickly turns out to be the best decision for levelling up. which helps to maintain health power(hp) throughout the match without the aid of any medkits.
9. Do Healing Battle
Healing battle, also known as medkit battle, are another great way to get EXP effortlessly & increase level in Free Fire. Players just have to land on the edges of the map and collect as many medkits as they can. And once you have about 15-20 medkits in the medkit inventory, move to an enemy-free zone, i.e., a damage zone. And keep using the medkit to avoid premature elimination.
However, this trick is only recommended for those who do not want to fight face-to-face. But there is a trick to surviving as long as possible for at least 10–12 minutes, which will give a good amount of experience in the end.
10. Don't Miss Double EXP Events
Double EXP events sometimes occur at the peak of updates, where the Exp rate doubles to 200% for all game modes, so be sure to use them. With these event stacks with Double Exp cards, you'll be up to the level you wanted in no time. To put it another way, it means accomplishing much more in fewer.
11. Spend/Purchase Diamonds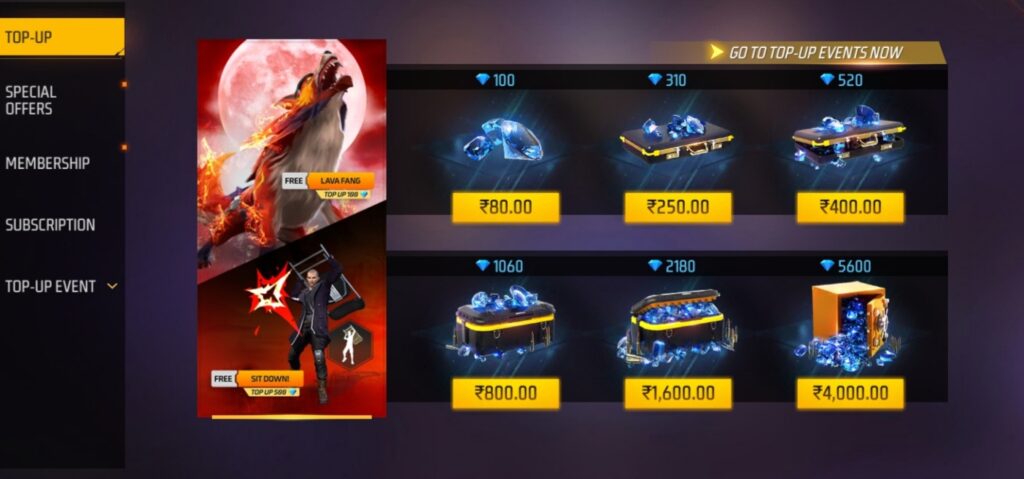 Did you ever know that spending money on games can give you more experience in the game? While this is also true in many Battle Royale titles such as Free Fire, when a player tops up or buys diamonds, they receive some free EXP points. These extra experience points help them level up their Free Fire ID more quickly.
Also Read: Double Diamond Offer in Free Fire Max In 2022: How to get cheap diamonds?
In addition, the player can also complete some in-game paid events to get more experience points to add to their current level in the game. But we don't recommend it if you can't afford to spend money on the game. That's why we put it last.
FAQs:
What is the Maximum Level in Free Fire?
There has not been any official commitment from Garena about the maximum level to be reached in Free Fire. But many players are committed to reaching level 100, which is believed to be the highest level in Free Fire, but it's not true. As of now, many players have managed to reach the 100+ level.
Also Read: Top 15 Highest Level Free Fire Players in the World (2022)
Conclusion
These were some of the ways through which you can easily level up to get a higher spot and beat your friends in terms of levels by getting more levels. If you keep grinding daily, then it will not take you long to learn these easy ways. Soon, you will see the results on your screen. Just make sure your goal isn't the gameplay if you're looking for a level boost.
Also, remember that levelling is not that easy. The higher you go, the higher the amount of EXP you need, making it more difficult to climb up.
---
For more Free Fire related updates and news join our Telegram channel, and also don't forget to hit the follow button on Google News and Twitter!