Free Fire Max offers users countless collectibles through a variety of means, one of which is the Top-Up event, which gives players free rewards when they purchase a specific number of diamonds in the game. Thus, any top-up events can be considered steals in Free Fire because they offer special items at low prices on several occasions.
Following the conclusion of the Dragon Bite top-up event, Free Fire Max is back with a new top-up event titled Fang Top-up, which features an exciting backpack, lootbox, and gloo wall skin. Users will be able to secure all this absolutely free of charge by topping up the diamonds. Here's more about the event and how to take part in it.
Free Fire Max Fang Top-Up Event: Overview
The event kicks off on October 18, 2022, and players have until October 23 to grab the prizes. The event includes a Lava Fang Pet Skin Bundle (Fang Pet + Lava Fang Skin) and a Sit Down! (emote). All these items are absolutely free, as players only need to buy diamonds, not spend money on them.
And upon topping up 100 in-game diamonds, players receive a Dragon Bite Lootbox; on topup of 300 diamonds, players receive a Dragon Bite Backpack; and the event's final main reward, the Dragon Bite Gloo Wall, is obtained upon topup of 500 diamonds.
Also Read: Double Diamond Offer in Free Fire Max In 2022: How to get cheap diamonds?
How to purchase diamonds and get Fang Pet and other rewards:
Follow the steps below to purchase diamonds and get all the rewards in Free Fire Max Fang top-up event:
Step 1: First of all, open the game and go to the Free Fire top-up section by clicking on the Diamond(?) icon from the top.
Step 2: Several options for toppings will appear. Make the payment for any desired option.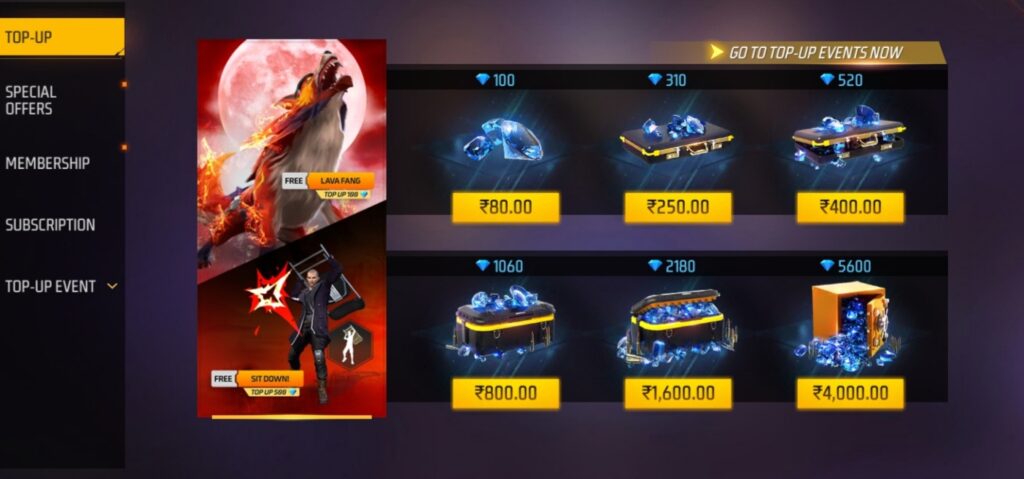 Step 3: Rewards will be unlocked once the transaction is completed and the diamonds will be credited to your account.
Step 4: Now, access the topup event from the Events tab and collect rewards.
That's all! Since the event time is only 1 week, players who regularly top up the diamonds should not miss this chance as they can collect all three of these items for free. Also, if someone has not topped up in the past or for several months, he will also get a free Cobalt Athlete Bundle as a reward.
What do you think about the Fang top-up event in Garena Free Fire? Let us know in the comments below.
---
Get the latest Free Fire news and updates from GamesRoid by following us on Google News, Twitter, and YouTube. And also join our Discord and Telegram channel for quick notifications!